Government Office should be pioneer in emulation campaigns: PM
Friday, 11:54, 21/08/2020
PM Nguyen Xuan Phuc ordered the Government Office to be a pioneer in national emulation campaigns while addressing a ceremony on August 20 to mark the 75th anniversary of its traditional day (August 28) and patriotic emulation congress for 2015-2020.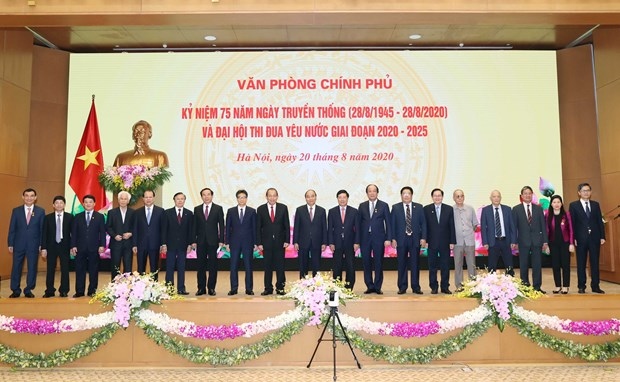 He acknowledged the office's endeavours in reforming and improving the quality of consultation to actively contribute to increasing the Government's operational efficiency and the administration of the country's socio-economic development.

The office has raised its level of responsibility in preventing the COVID-19 pandemic spreading across localities while at the same time developing the socio-economy, making Vietnam a shining light in pandemic prevention around the world.

The PM urged the office to continue its assistance in the building of a facilitating and action-oriented Government to better serve the people and businesses, as well as further studying and proposing appropriate socio-economic development solutions in the context of the difficult circumstances at present.

In the 2015-2020 period, the office actively responded to emulation campaigns launched by the Government leader, including building new-style rural areas, supporting Vietnamese businesses in integration and development, and joining hands to help poor households so that no one is left behind.