GI certificate – a booster for lychee exports
Thursday, 12:26, 01/07/2021
Obtaining a certificate of Geographical Indication (GI) helps facilitate the export of thieu lychee to fastidious international markets like Japan, according to Chairman of the provincial People's Committee Le Anh Duong.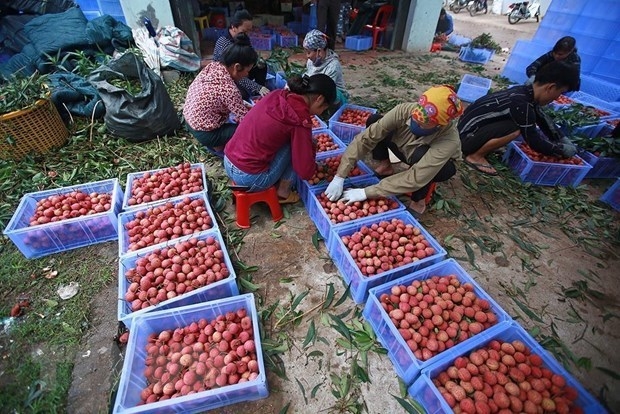 The Japanese Ministry of Agriculture, Forestry and Fisheries (MAFF) has recently granted a certificate of Geographical Indication (GI) to lychees grown in Luc Ngan district, the northern province of Bac Giang, making it the first Vietnamese products to obtain the certificate in Japan.

Thieu lychee has already been granted geographical protection in six countries - China, Laos, Cambodia, the Republic of Korea, Singapore, and Australia. The fruit has been exported to many countries worldwide.

MAFF's certification of geographical indication for Thieu lychees proves that the quality of the product meets international standards, Duong said.

Director of the provincial Department of Cultivation Dang Van Tang said for the Japanese market, Bac Giang continues to grow Thieu lychees in 19 cultivation areas which were granted codes in 2020.

The locality has proposed codes be granted to 11 more planting areas, lifting the total area of Thieu lychee serving export to Japan to about 219 ha, with output of around 1,500 tonnes.

Chairman of the Luc Ngan district People's Committee La Van Nam said Luc Ngan has over 15,000 ha of land under Thieu lychee, mostly in Hong Giang, Tan Son, Quy Son, and Giap Son communes. Many cultivation areas are applying the Global Good Agricultural Practices (GlobalGAP) and Vietnamese Good Agricultural Practices (VietGAP), meeting requirements for domestic consumption and export.

According to the provincial Department of Industry and Trade, the province expects to harvest about 160,000 tonnes of the fruit in 2021.
Bac Giang exported 200 tonnes of Thieu lychee to Japan in 2020.

A year after Japan first opened its market to Vietnamese lychees, the export and consumption of the fruit have been going smoothly despite COVID-19, Vietnam's trade office in the Northeast Asian country said.

Ta Duc Minh, Trade Counsellor of Vietnam in Japan, said that due to the impact of the pandemic, Japan's Ministry of Agriculture, Forestry and Fisheries (MAFF) didn't send experts to monitor lychee packaging and sterilisation this year but instead authorised Vietnam's plant quarantine agency to do so.

This helped save time and cost in preparing the lychees for export, creating better conditions for the fruit to enter Japan, he noted.
The first batch of Vietnamese lychees, under a contract signed between Japan's Sunrise Farm and the Ameii Vietnam JSC, will arrive in Japan on May 23.

Vietnamese exporters plan to ship about 1,000 tonnes of fresh lychees, which are now in season, to Japan this year, Minh said, attributing that outcome partly to the trade office's early implementation of promotional activities in Tokyo and many other localities around the country.

The trade office is continuing to coordinate with relevant agencies in Vietnam and distribution networks in Japan to step up these efforts, helping the fruit become more popular among Japanese consumers, the Trade Counsellor added.

Vietnam began negotiating lychee exports to Japan in 2014. After five years, on December 15, 2019, the MAFF announced that Japan had officially opened its market to Vietnamese lychees but also requested that the fruit undergo a strict plant quarantine process prior to export.

In early June 2020, an agricultural expert from Japan was sent to Vietnam to monitor fruit packaging and sterilisation, completing the final step required by Japan for lychees to be shipped to the market.

Thieu lychees have been exported to 30 countries such as China and the EU, Russia, the US and Canada.

Lychee is the fourth kind of fruit from Vietnam that has successfully made inroad into the Japanese market, following dragon fruit, mango and banana.