German firms keen on Vietnamese market
Monday, 18:17, 30/05/2022
VOV.VN - Wirtschaftswoche (WIWO), a German weekly business news magazine, has published an article stating that the Vietnamese market has become a new option for German companies due to China's zero-COVID policy causing supply chain disruption.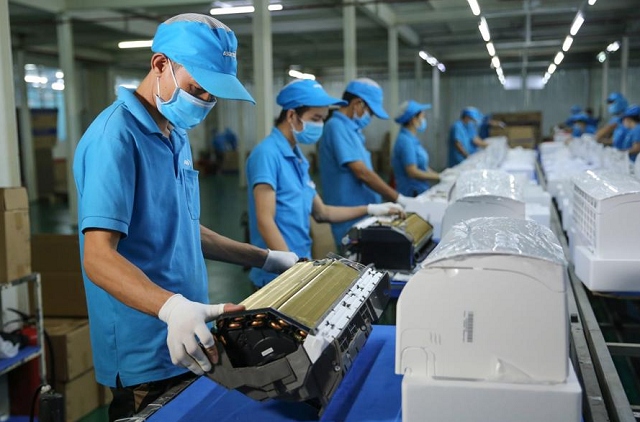 The piece notes that increasing numbers of German companies in Asia are seeking alternative solutions and have realised that Vietnam could become a production hub in the future.
Marko Walde, chief representative of the German Industry and Commerce in Vietnam (AHK Vietnam), said that since the nation reopened its borders on March 15, several German companies have visited its office in order to seek consultancy for their new production hubs.
Furthermore, trade disputes with the United States, supply chain disruption, and China's COVID-19 policy, have all been factors in forcing German companies based in Asia to consider relocating production to Vietnam.
Most notably, the country enjoys tariff advantages thanks to the Comprehensive and Progressive Agreement for Trans-Pacific Partnership (CPTPP) with the US. In addition, aside from Singapore, it is the only Asian nation to have signed a free trade agreement with the EU.
Germany Trade & Invest (GTAI), an economic development agency, pointed out that international companies are in the process of diversifying their supply chains and many view Vietnam as an idea investment destination.
GTAI revealed that Danish toy maker LEGO has recently invested over US$1.29 billion in a new factory in the country.
Meanwhile, the Kärcher group in Winnenden, a family-owned global leader in cleaning technology, has also decided to select the nation as its new production location, according to WIWO.
KURZ, a leading international company in thin-film technology and a market leader in the hot stamping field, has set up a new production facility in Quy Nhon city in the central coastal province of Binh Dinh. 
Adhesive tape manufacturer Tesa, a subsidiary of Beiersdorf Group, also unveiled its investment plans of more than US$59 million in May, 2020, as it seeks to build a new factory in the northern port city of Hai Phong, a site which is expected to open next year.
Stefan Schmidt, head of Supply Chain and Operation at Tesa, emphasised that the country boasts ideal conditions for the company's growth, noting that Vietnamese economy has grown impressively and steadily despite the negative impacts of the COVID-19 pandemic.
Moreover, Vietnam has established trade relations with several countries and located in Asia - the world's largest free trade area.
With the new Vietnamese facility, Tesa can not only supply products to China, but also to countries such as Thailand and the Republic of Korea.