Four leading US groups keen to expand investment in Vietnam
Thursday, 11:07, 21/09/2023
VOV.VN -Prime Minister Pham Minh Chinh received leaders of several leading economic corporations based in the United States and internationally, including SpaceX, Coca-Cola, Pacifico Energy, and Medtronic on September 20 as part of his trip to attend the high-level week of the UN General Assembly's 78th session and bilateral activities in the country.

During these meetings, the Vietnamese cabinet leader briefed leaders of US corporations on the outstanding results of the nation's socio-economic situation, adding  that the country advocates selectively attracting investment, giving priority to projects in industries and fields such as science and technology, innovation, research, and development; the green economy and digital economy; along with the knowledge based economy and circular economy.
The Government therefore pledges to create favourable conditions for corporations to invest and conduct business effectively in the nation, with a view to ensuring harmony of interests between people, businesses, and the State, based on harmonious benefits and shared risks. The success of these firms is also the success of the country as a whole, he added.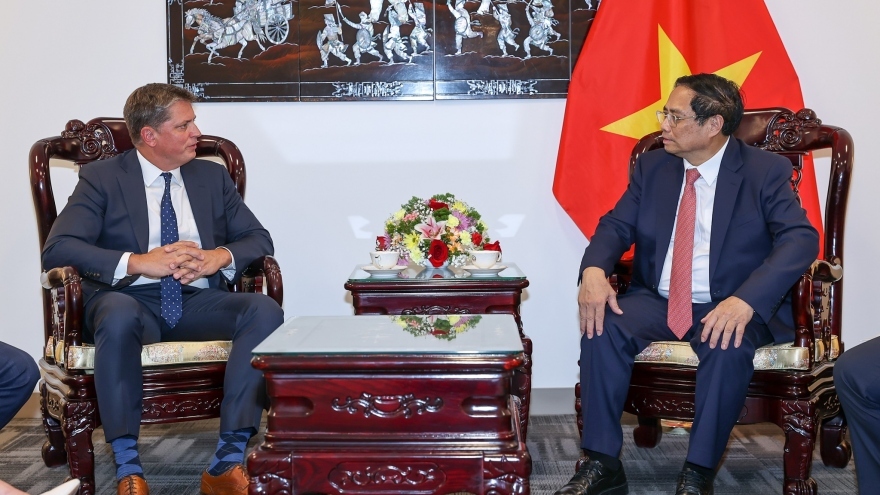 SpaceX destined to expand local investment
SpaceX is a large US corporation and a world leader in providing spacecraft, satellite defence services, and satellite communications.
At the meeting, Tim Hughes, senior vice president of global business and government affairs at SpaceX, and other senior leaders expressed great appreciation for the country's Vietnamese development potential.
He stated that SpaceX plans to expand its investment in the country and therefore hopes to provide Starlink (satellite internet) services locally, thereby helping to provide broadband internet services in the nation.
PM Chinh went on to hail the business investment activities run by SpaceX Group globally over recent times, going on to welcome SpaceX for proactively proposing expanding investment in the Vietnamese market as a contribution to promoting digital transformation and the digital economy.
He said he would assign relevant agencies to discuss and guide the group in implementing co-operation and investment projects within the legal framework, as well as requesting that the group comment on related policies.
Satellite internet services must ensure quality, convenience, and reasonable prices to be able to compete with other technologies and other businesses, PM Chinh said, while proposing that SpaceX launch co-operative activities to accelerate innovation activities in the country moving forward.
Pacifico Energy desires to invest in offshore wind power in Vietnam
Pacifico Energy Group, which has its headquarters in the US, is the largest solar energy investor in Japan, one of the private renewable energy corporations with the highest growth rates in the region and the Asian market.
Since 2012, Pacifico Energy has mobilised over US$4.6 billion for dozens of projects, including solar power, wind power, offshore wind power, and battery storage, with a total capacity of about 8.5 GW worldwide, focusing on Japan, the US, the Republic of Korea (RoK), and Vietnam.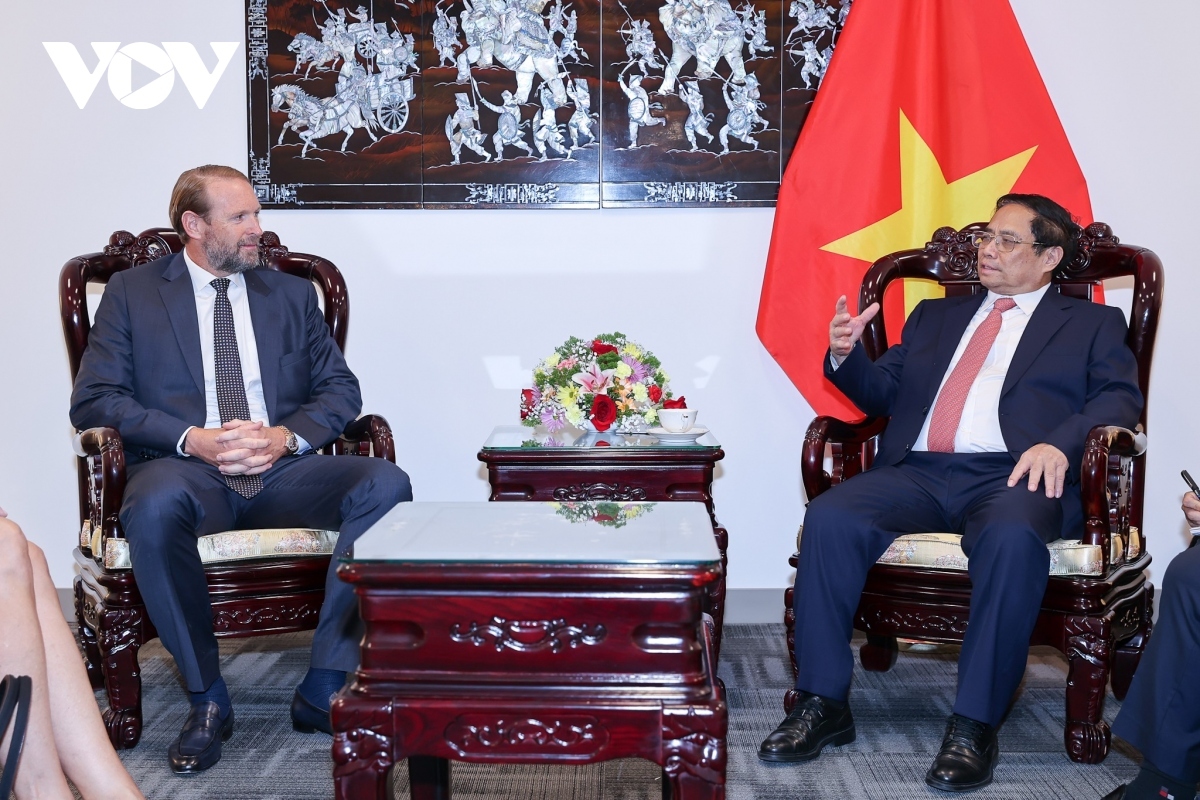 Locally, Pacifico Energy is currently the largest renewable energy investor from the US with the 40 MW Mui Ne solar power project in Binh Thuan and the 30 MW Sunpro wind power project in Ben Tre province.
At the meeting, Nate Franklin, president of Pacifico Energy Group, expressed delight at the establishment of a comprehensive strategic partnership between Vietnam and the US, as well as for PM Chinh's business trip to the US.
He said that the nation, along with Japan and the RoK, represent the three most important markets of the group.  Pacifico Energy is therefore keen to continue investing in the field of renewable energy in the country as well as sharing ideas about developing offshore wind power in Vietnam.
PM Chinh affirmed that the nation always welcomes, encourages, and offers optimal conditions for foreign investors, including investment projects in the field of renewable energy in the spirit of "harmonious benefits" and "shared risks" between the State, businesses, and people.
It is therefore essential to comprehensively calculate all five factors, including power source, power load, distribution, use of electricity, and electricity price suitable to payment ability.
The Vietnamese Government welcomes and encourages fresh ideas and investment plans of Pacifico Energy Group in renewable energy and clean energy projects, as well as pledges to accompany, support, and create all favourable conditions for Pacifico Energy and its partners to deploy effective, successful, and sustainable business investment activities in the Vietnamese market, PM Chinh went on.
He added a request for the group to co-ordinate with Vietnamese agencies and partners to implement projects according to regulations, while ensuring publicity and transparency.
Coca-Cola praised for shifting towards green production
Coca-Cola is an enterprise operating in the field of manufacturing and distributing beverage products, appearing in most markets around the world and boasting a total  workforce of 700,000. Indeed, last year's revenue reached roughly US$43 billion.
In terms of the Vietnam market, after nearly 30 years, Coca-Cola has a total accumulated investment capital of more than US$1 billion, with three beverage factories in Hanoi, Da Nang, and Ho Chi Minh City, whilst it has just started construction work on another facility in Long An province.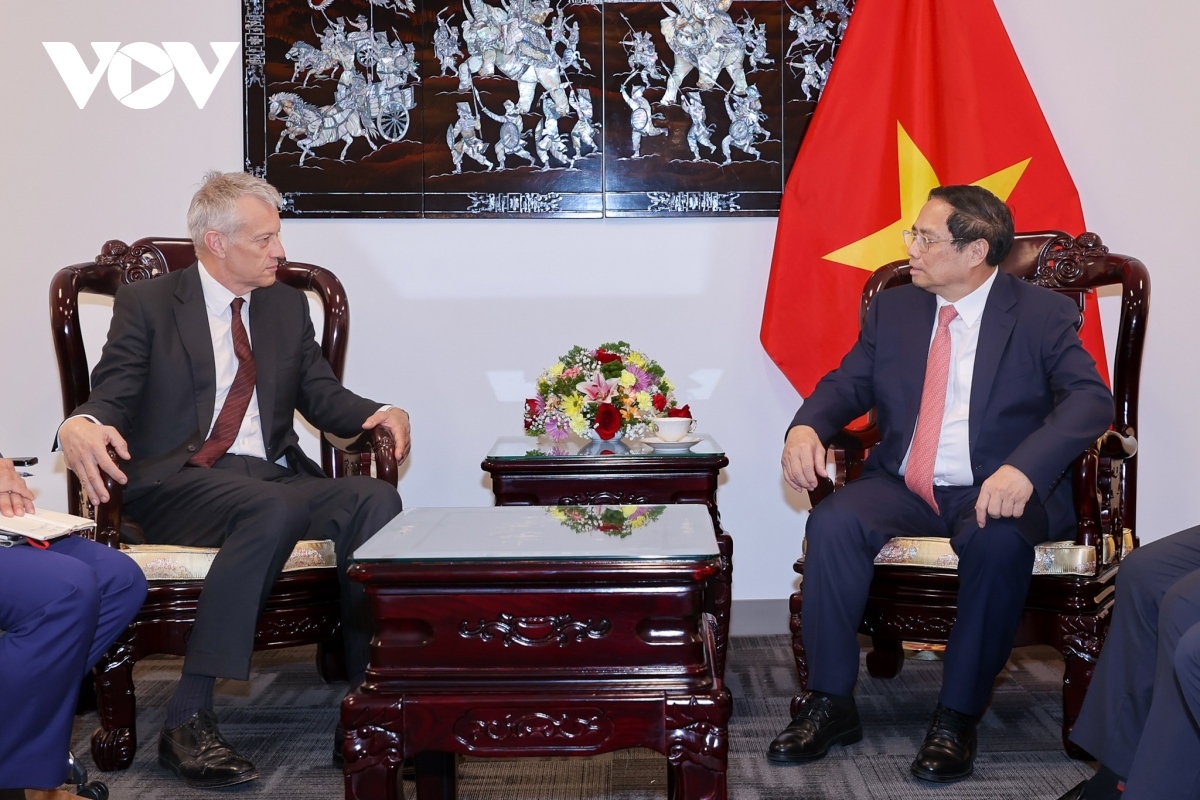 Hames Quincey, president and CEO of Coca-Cola, informed PM Chinh about the situation and plans for future operations and business in the country in the direction of green production and environmental protection, with a desire to continue receiving support from the Vietnamese Government during the investment process in the Southeast Asian nation.
PM Chinh applauded the company's operating results in the country and its sustainable business strategy which seeks to promote green, socially responsible production, and environmental protection.
He suggested that Coca-Cola continue to deploy and shift the production structure of the company's factories in Vietnamese localities towards sustainable development, making us of clean energy for environmental protection.
With the group's proposals related to the global minimum tax, PM Chinh said that the nation will consult international experience and design appropriate policies in the spirit of win-win, harmonious benefits, and shared risks.
Medtronic seeks expanded local investment
Medtronic operates in the field of technology and medical equipment, belonging to the group of 100 largest enterprises in the US and the largest medical equipment enterprise in the world according to total revenue. It is currently operating in more than 150 countries globally with 90,000 employees.
Geoff Martha, president of Medtronic Group, shared the group's investment expansion plan in the field of medical equipment manufacturing in Asia and ASEAN, including Vietnam, saying his group wishes to invest in the nation, especially in the field of high technology and medical equipment manufacturing.
PM Chinh highly appreciated that after more than a decade of operations in the country, Medtronic has actively contributed to improving people's health care standards in the fields of cardiology, endoscopic surgery, recovery care, and diabetic care.
He welcomed and supported Medtronic's proposal and plans to expand investment activities in the nation, requesting that Medtronic co-ordinate with the Ministry of Planning and Investment, the Ministry of Health, and relevant agencies for guidance and implementation of research, aiming to realise investment plans in Vietnam.
He also suggested that Medtronic support Vietnamese businesses in engaging in Medtronic's supply chain, thereby enhancing technology transfer to Vietnamese partners during their investment process.