Forum explores trade, investment chances between Vietnam, Sierra Leone
Wednesday, 19:12, 16/03/2022
A Vietnam - Sierra Leone business forum was organised in Hanoi on March 16 to explore opportunities for boosting bilateral trade and investment ties.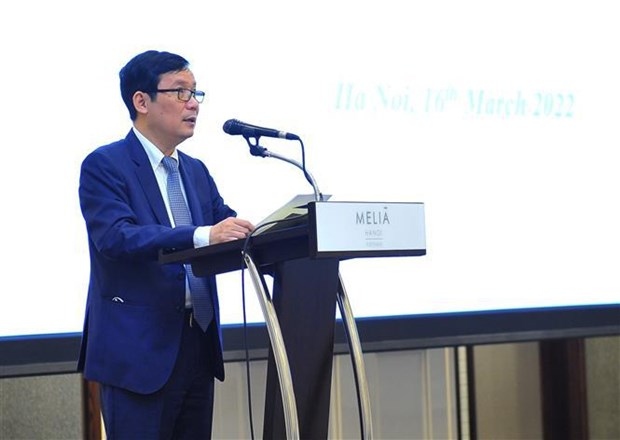 The event was held as part of an official visit to Vietnam by President of Sierra Leone Julius Maada Bio, the first-ever trip by a head of state between the two countries.

In his speech, Chairman of the Vietnam Chamber of Commerce and Industry (VCCI) Pham Tan Cong said the two countries have recently recorded encouraging signs in their economic and trade relations.

Bilateral trade stood at US$49.26 million in 2020, surging by over 200% from US$17 million in 2018. Vietnam mainly exports cigarettes, computers, textile - garment products, and materials to Sierra Leone while importing timber and wood products from the latter. The African nation is investing in a marketing and human resources management project worth over US$33,000 in Vietnam.
As a gateway to Southeast Asia, Vietnam hopes to continue receiving attention from Sierra Leonean enterprises in the time ahead, Cong said.

He also called on the countries' businesses to increase sharing information and seeking partnership opportunities, suggesting them explore trading chances for potential products like farm produce and medical supplies of Vietnam and some agricultural products and minerals of Sierra Leone.

Vietnamese firms can also consider investing in agriculture and fisheries in Sierra Leone, which is a gateway to the large Western Africa region and has the deep-water Freetown Terminal, Cong recommended.

He added VCCI is ready to cooperate with Sierra Leonean authorities and continue serving as a bridge linking bilateral trade and investment activities.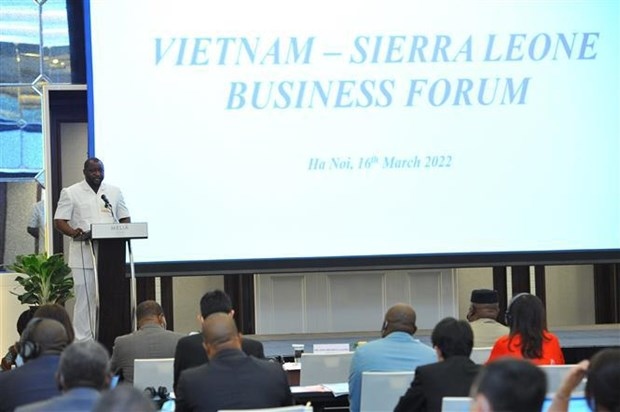 Sierra Leonean Minister of Trade and Industry Edward Hinga Sandy said his country has been making great strides in boosting investment. It is exporting mainly palm oil at present and plans to switch to timber, wood products, and ore mining in the time ahead.
Expressing his wish to step up bilateral cooperation, he said businesses of Vietnam and Sierra Leone hold numerous opportunities to invest in each other's country and then increase trading with other nations in the regions.

Echoing the view, Chief Minister Jacob Jusu Saffa said Sierra Leone boasts huge untapped potential as well as a healthy and promising investment climate for foreign enterprises. Its government supports and encourages investment, continually make adjustments to have appropriate policies, and issues attractive financial and tax support for businesses, he added.

He expressed his hope that Vietnamese companies will enhance ties with Sierra Leone to generate profit and value for both countries.

At the event, participants discussed investment opportunities in agriculture and fisheries of Sierra Leone, cooperation in technology, and measures for bolstering bilateral trade.