Forum examines ways to maintain growth momentum between Vietnam and Latin America
Friday, 12:13, 25/11/2022
VOV.VN - Bilateral trade between the nation and Latin America continues to maintain its growth momentum despite facing global uncertainties, said Deputy Minister Do Thang Hai of Industry and Trade at the Vietnam - Latin America Trade Forum in 2022 on November 25 in Hanoi.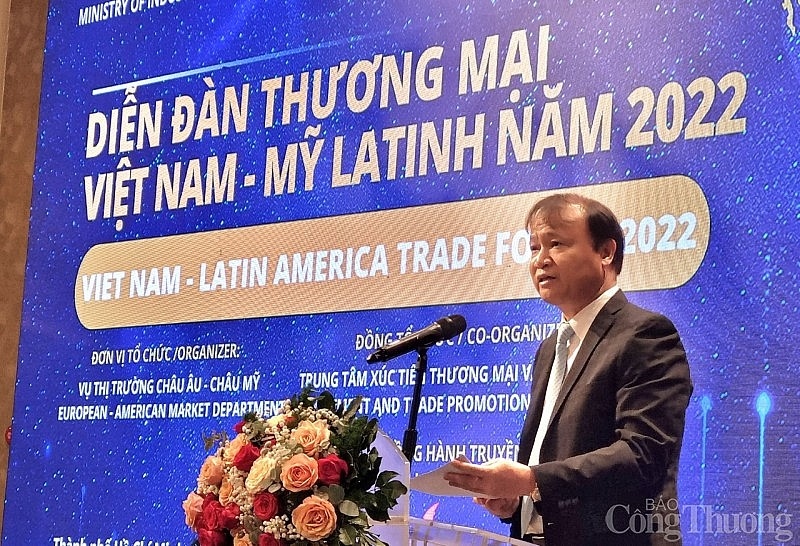 Over the past five years, two-way trade turnover has nearly doubled from US$11.6 billion in 2016 to US$21.4 billion in 2021. Of this figure, Vietnamese exports to Latin America surged by 46.4% to reach US$12.5 billion, while imports from Latin America into the country inched up 20.2% to US$8.9 billion.
During the ten-month period, total two-way turnover surged 10.5% to US$18.7 billion, of which Vietnamese exports to Latin America increased by 5.3% to US$10.2 billion and imports from Latin America into Vietnam edged up 17.3% to reach US$8.6 billion.
Aside from traditional markets such as Brazil, Mexico, Argentina, and Chile, several emerging markets, including Panama, Colombia, and Peru, became bright spots in Vietnamese trade exchange with Latin America countries, Deputy Minister Hai said.
As well as being a potential export market for advantageous Vietnamese products such as garments and textiles, footwear, agricultural, and aquatic products, Latin America is also an important source of raw materials for the Vietnamese manufacturing industry, the Deputy Minister added.
With regard to investment, the Southeast Asian nation continues to implement a number of important investment projects worth hundreds of millions of US$ in Latin America, including Viettel group's projects of telecommunications networks in Peru and Haiti, as well as Viglacera Corporation and Thai Binh Company's projects in Cuba in the fields of infrastructure and production of consumer goods.
Furthermore, there are 21 Latin American countries investing in the Vietnamese market, with 114 projects capitalised at approximately US$671 million.
Most notably, the nation and its Latin American partners are also effectively implementing several free trade agreements (FTAs), a factor which has given fresh impetus for economic, trade, and investment relations.
FTAs include the Comprehensive Partnership Agreement and The Comprehensive and Progressive Agreement for Trans-Pacific Partnership (CPTPP) and the Vietnam-Chile Free Trade Agreement (VCFTA).
Moreover, the country is also continuing to discuss the possibility of negotiating an FTA with the South Common Market (Mercosur) in the future.
However, the MoIT representative pointed out that the Vietnamese business community and Latin American partners face numerous difficulties due to geographical distance, high logistics costs, language difference, and a general lack of market information.
In addition, other external factors such as global geopolitical instability, risks of economic recession, high inflation, and food and energy security issues are also anticipated to pose challenges for the business community of both sides moving forward.
The Vietnamese Government and the Ministry of Industry and Trade, along with Vietnamese Trade Offices in Latin American countries, will therefore strive to exert greater efforts in order to support localities and the Vietnamese business community. They will seek to provide them with relevant market information and resolve difficulties arising in the process of investing and expanding the market, Deputy Minister Hai noted.