EuroCham launches 2023 Whitebook, reaffirms commitment to Vietnam market
Thursday, 14:06, 16/02/2023
VOV.VN - The European Chamber of Commerce Vietnam (EuroCham) hosted a business-to-government dialogue forum on February 16 in Hanoi and launched its 2023 Whitebook themed "Working Toward a Green Economy and Sustainable Development".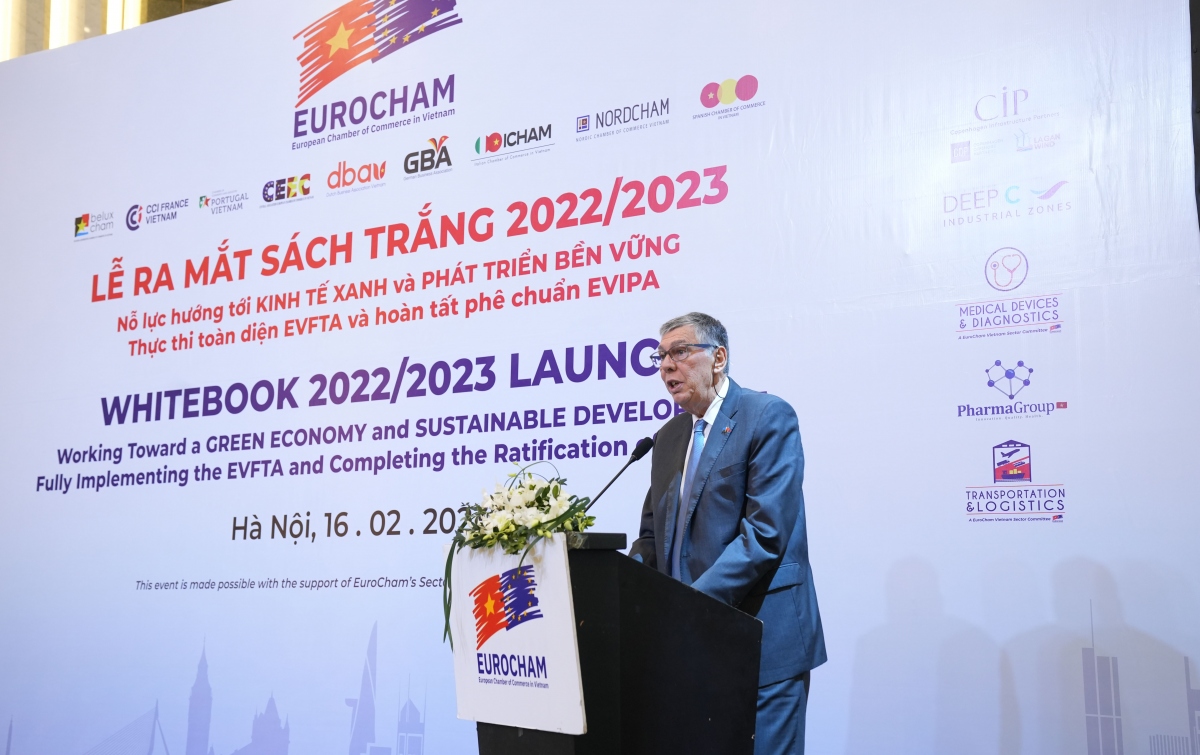 The ceremony brought together a diverse group of political and business leaders who took part in a productive dialogue between the European business community and Vietnamese policymakers.
Addressing the event, Alain Cany, chairman of EuroCham, emphasised the importance of the Whitebook, stating that the key points outlined in the publication can be used in support of the Vietnamese Government's socio-economic development plans, in addition to helping ensure that Team Europe effectively supports these plans. 
"In this period of transition to a green, sustainable future, I have high hopes for Team Europe-Vietnam relations. Together, our productive relationship empowers us to take advantage of the endless prospects that lie ahead. The European business community and EuroCham will continue to be the strongest supporters for helping Vietnam to achieve this progress," said the Eurocham representative.
Cany also pointed out that the European Union-Vietnam Free Trade Agreement (EVFTA) has served as a driving force for bilateral trade and investment, whilst it has also facilitated the flow of technology and expertise.
While positive results have already been achieved, more can be done moving forward, especially if the Whitebook's key concepts are taken to heart, he noted.
EuroCham believes that if the challenges outlined in the Whitebook are properly addressed, the positive outcomes will rise and the potential of the trade deal will be realised. 
"Vietnam's impressive economic progress is a testament to its potential as a leading player in the region. However, in order to ensure long-term stability and growth, it is imperative that we prioritize sustainable development. Our newest Whitebook serves as a comprehensive guide to this future, offering practical policy recommendations to address the most pressing regulatory challenges faced by European businesses operating in Vietnam. By working together to overcome these obstacles and create a more conducive atmosphere for sustainable growth, we can help secure a brighter, more sustainable future for Vietnam and its people," Alain Cany, chairman of EuroCham noted.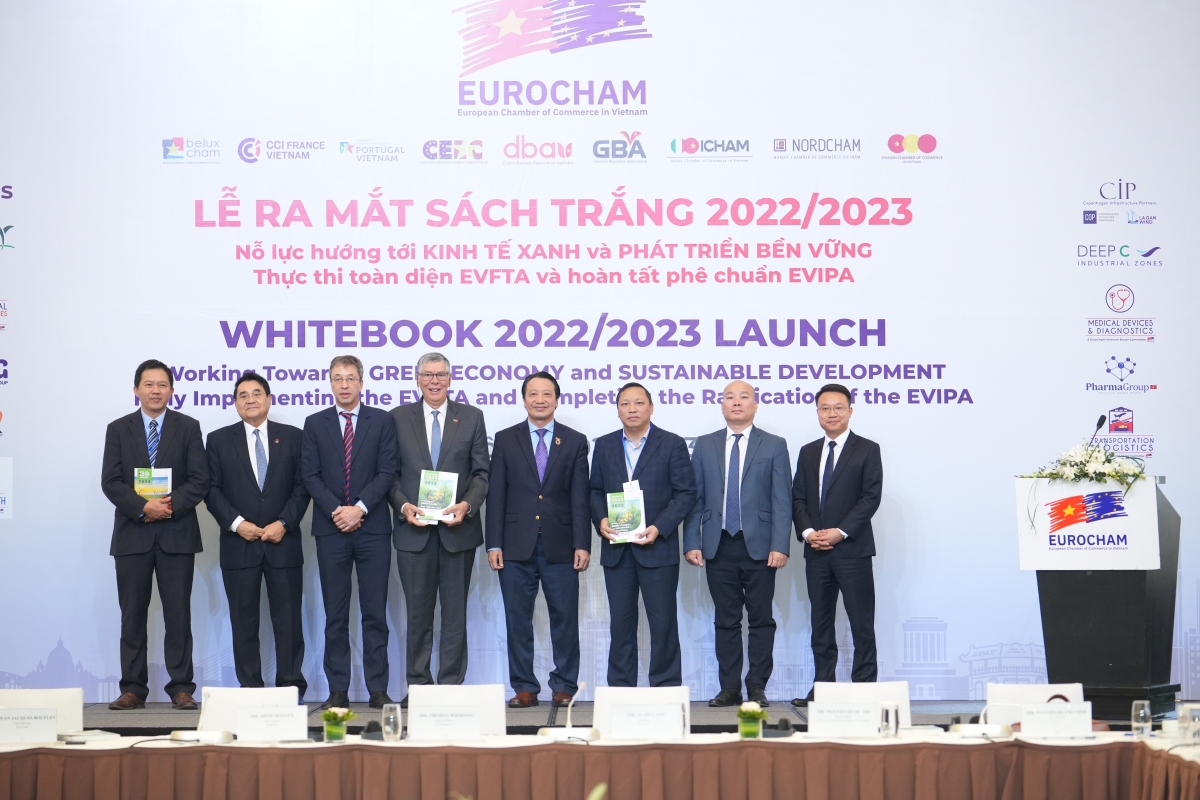 Sharing the perspective, Jean-Jacques Bouflet, vice-chairman of EuroCham Vietnam said, "In light of the difficult economic conditions of 2022 and forecasts that predict continued challenges in 2023, it is imperative that we take decisive action to address the issues affecting the business climate in Vietnam. The newly-released Whitebook serves as a crucial tool in this effort."
He added that one of the main concerns is the complex and unpredictable process of obtaining work visas for foreign experts, and if this process is simplified and made more transparent it will ensure that foreign experts and investors find Vietnam a much more attractive destination.
Meanwhile, Emin Turan, chairman of Pharma Group, revealed that in representing the innovative pharmaceutical industry which played a crucial role during the pandemic, Pharma Group is fully committed to supporting the Government in developing a transparent, bold, concrete, time-bound, and measurable action plan to achieve the shared vision. This involves helping Vietnam to be among the leading countries in the region in terms of quality healthcare with an innovation-driven industry.
Eunjung Han, vice-chairwoman of EuroCham's Digital Sector Committee, stressed that this year marks an especially important period for the country in terms of digital with key instruments in the pipeline, including the Draft Cybersecurity Sanctions Decree, Draft Personal Data Protection Law Decree, and Draft Amended E-Transactions Law. 
The Whitebook reflects these dynamic developments, while sharing members' viewpoints and practical recommendations reflecting international best practices. In particular, it is recommended that the harmonisation of local personal data protection provisions takes place in line with the EU's General Data Protection Regulation (GDPR) and other jurisdictions' laws. This is along with the facilitation of free cross-border flow of data and recognition of international certificates for e-signatures. 
Han therefore expressed his hope that the continued dialogue will contribute to remove unneeded barriers, better facilitate business, and ultimately elevate Vietnam to become a regional digital hub.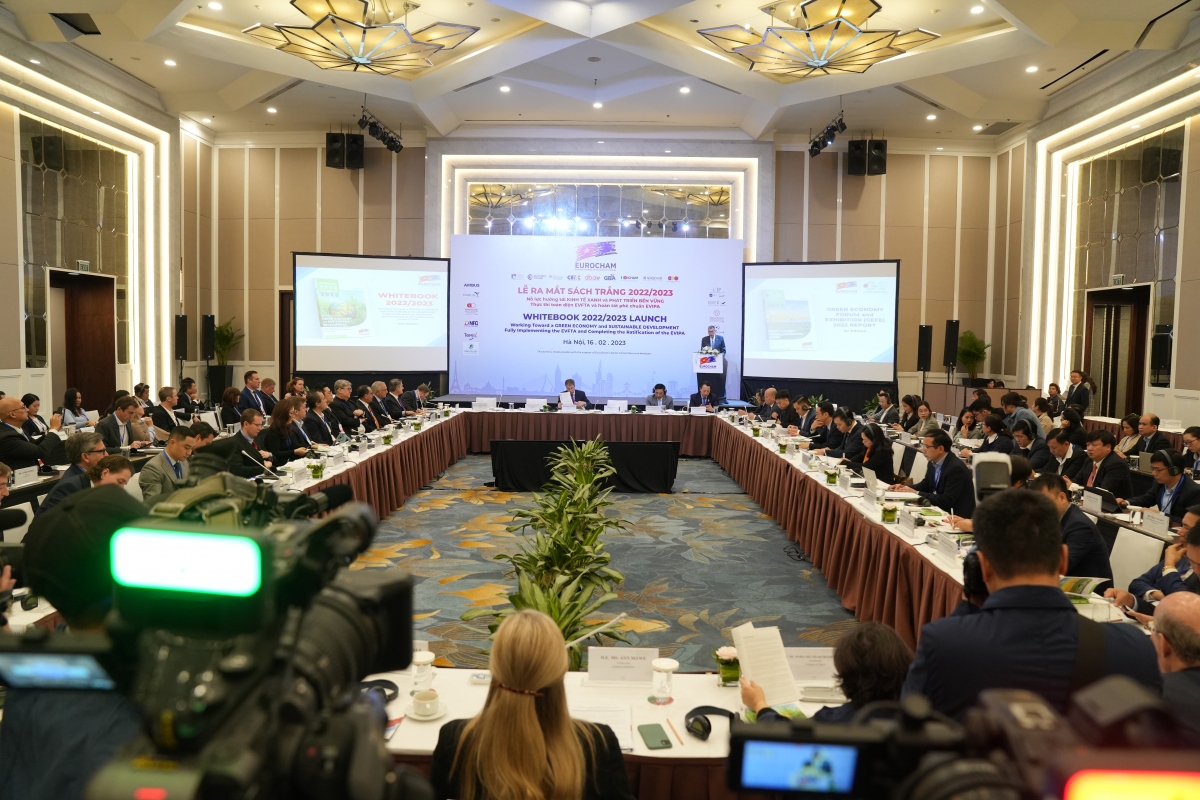 For his part, Jesper Clausen, chairman of EuroCham's Food Agri & Aqua Business (FAABS) Sector Committee, outlined that Vietnam has been striving to position itself as a foremost food producer in Southeast Asia, with a proven track record in terms of the cultivation of rice, fruits and vegetables, meat, and seafood.
"The goal of our Whitebook recommendations is to build on this success. The EVFTA's implementation presents a unique opportunity to further bolster this trajectory, as it reduces trade barriers and supports Vietnam's adherence to international standards. The entry of European food companies in the Vietnamese market is expected to elevate the quality of food products available to consumers. It is imperative, however, to approach food production with a One Health philosophy, to minimize the reliance on antibiotics and pesticides. The growing global interest in green and sustainable food production presents a promising landscape for business ventures, as evidenced by the success of the Green Economy Forum and Exhibition (GEFE) 2022," he added.
EuroCham's annual publication, the Whitebook, serves as a comprehensive guide to the regulatory landscape faced by European businesses in Vietnam. It offers a nuanced understanding of the obstacles impeding the country's economic progress and sheds light on the adverse effects these challenges have on critical areas such as trade, investment, employment, and development. With a focus on practical solutions, the Whitebook presents policy recommendations aimed at resolving these regulatory hurdles and facilitating the growth of the country's economy.
At the event, EuroCham Vietnam also unveiled the release of a report on the Green Economy Forum and Exhibition (GEFE), which took place in November, 2022.