Economic diplomacy helps tighten Vietnam - Cuba special ties: Deputy PM
Tuesday, 11:52, 19/09/2023
Economy is a diplomatic aspect helping tighten the special friendship and cooperation between Vietnam and Cuba, Deputy Prime Minister Tran Hong Ha said while visiting establishments of some Vietnamese businesses and meeting with the Vietnamese community in the Caribbean country.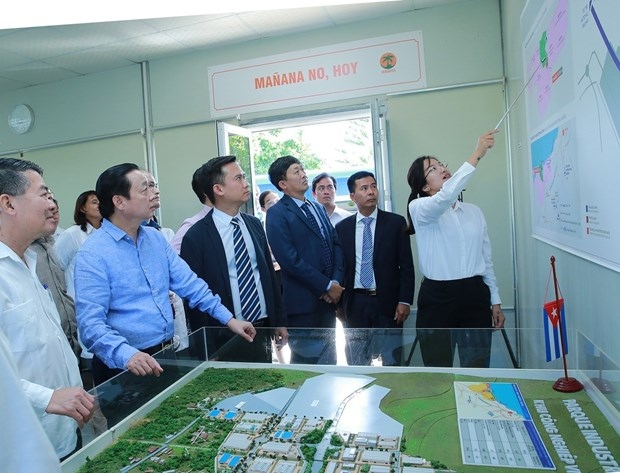 Ha was in Cuba to attend the G77+China Summit and pay a working visit to the country from September 15 to 18.

Reporting to the Deputy PM, Vietnamese Ambassador to Cuba Le Thanh Tung said about 260 Vietnamese people are living, working, and studying here, and that Vietnamese businesses form a bright spot of bilateral investment links.

He said as economic diplomacy is a focus of their activities, the representative agencies of Vietnam in Cuba have maintained close connections with Vietnamese firms in the country, kept constant information exchanges with them, and provided maximum assistance for the companies to overcome obstacles during project implementation and seek investment and business opportunities in Cuba.

Talking to representatives of the Vietnamese community and staff members of the embassy, Deputy PM Ha emphasised the particularly strong bonds between the two countries.

He affirmed that the Party, State, Government, National Assembly, and people of Vietnam never forget Cuba's wholehearted support during wartime. They always treasure and stay determined to further intensify the countries' traditional solidarity and comprehensive cooperation, and stay by the side of the Cuban people in their just revolutionary cause. Vietnam will keep assisting Cuba to weather current difficulties.

Ha recommended that aside from solutions to existing difficulties, Vietnamese businesses should carry out new forms of cooperation to capitalise on Cuba's strengths and attainments in scientific research and biological and medical technology in order to generate substantive economic benefits.

On behalf of Party and State leaders, he spoke highly of efforts by the Vietnamese community and representative agencies in Cuba to help maintain and promote the special and exemplary solidarity between the two countries.

The Deputy PM expressed his belief that with the people's strength and the world's support, Cuba would surmount current challenges and difficulties and become a highly potential market.

He also called on Vietnamese people in Cuba here to continue engaging in cultural exchanges and the promotion of investment, production, and business activities.