Circular economy is key to sustainable development, says minister.
Tuesday, 18:37, 28/06/2022
VOV.VN - Developing a circular economy can be viewed as key to achieving sustainable development and to helping Vietnam meet its climate change commitment of reducing greenhouse gas emissions to zero by 2050, said a Government official on June 28.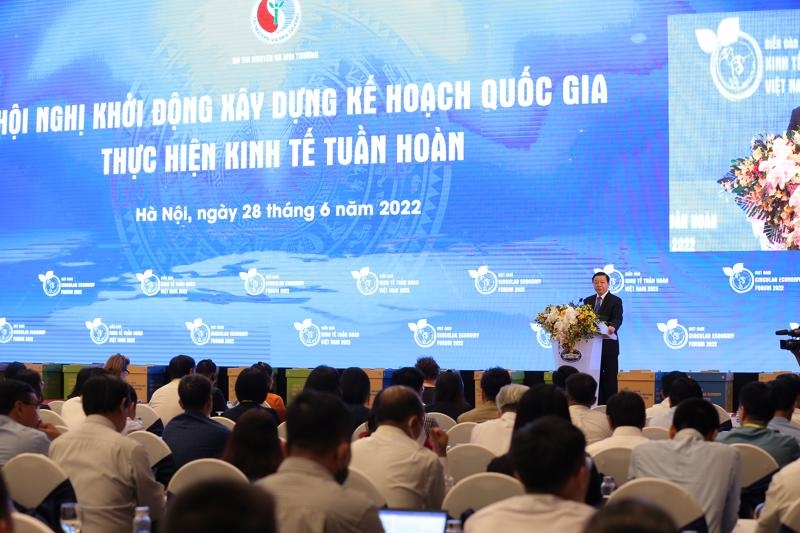 Addressing a conference held to launch the formation of a national action plan on the circular economy, Minister of Natural Resources and Environment Tran Hong Ha noted that climate change, environmental pollution, and ecological deterioration are creating a double crisis for humanity.
He cited results of the sixth Assessment Report of the Intergovernmental Panel on Climate Change (IPCC –AR6), saying if the global average temperature increase is not controlled at 1.5 degrees Celsius above pre-industrial levels, humanity and the natural environment are at risk of irreversible damage.
The IPCC estimates that over 20 million people around the world have been displaced from their homes each year since 2008 as a result of storms and floods, and half of the world's population have lacked water for at least one month a year.
The United Nations also warned that global ecosystems are continuing to degrade or change, while biodiversity is declining at an unprecedented rate in human history that will eventually affect the implementation of the Sustainable Development Goals (SDG), and increase challenges in terms of climate change, health, food security, and water resources.
These problems require an economic model that more efficiently makes use of resources, halts climate change, reduces pollution, and prevents environmental degradation, Minister Ha said.
According to the Minister, the transition from a linear model to a circular economy will initially face difficulties as Vietnam lacks policies to promote resources, along with recycling technology.
"However, with the participation of the entire political system, the response of the whole society, in which businesses and people are the driving force, we are confident that the transition would be accelerated," stressed the Minister.
Major recommendations from UNDP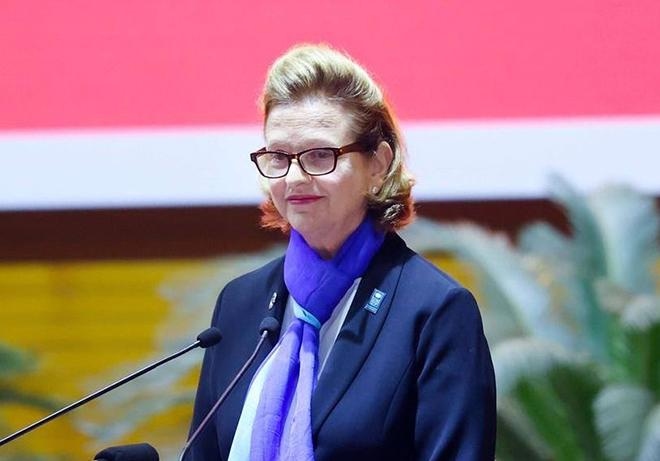 Speaking at the gathering, Caitlin Wiesen, resident representative of the UN Development Program (UNDP) for Vietnam, shared Minister Ha's view that the circular economy represents the key for Vietnam to fulfill its climate commitments, including the target of reaching net zero emissions by 2050.
As a way of developing the economy, she recommended that the country formulate a programme for post-pandemic green economic recovery, with a specific focus on transforming the economy into a circular economy.
Vietnam must strive to reduce fossil fuels and increase renewable energy, while also promoting sustainable, green, low-carbon production, and consumption, she said.
In her opinion, the model of smart cities should be promoted domestically, explaining that with 70% of the population residing in coastal areas and low-lying plains, the relocation to cities must be quickly accelerated. Indeed, the country's urbanisation rate has doubled to 38% over the past 30 years, and the rate is projected to rise to 57% by 2050.
The UNDP official pointed out that sustainable production and consumption should be stepped up as approximately 45% of emissions is related to domestic consumption, disposal, and material waste. In addition, Wiesen said that the country has great potential for developing renewable energy, therefore it should primarily focus on developing wind and solar power to achieve its green economy goals.
The UNDP is therefore fully committed to supporting the Vietnamese Government in building a further vision of a green economic recovery, an inclusive and low-carbon circular economy that strives to achieve net-zero emissions by 2050, said Wiesen.
Domestic and international experts shared successful circular economy models which have been implemented globally and suggested a suitable model for the country. Nearly 20 booths demonstrating concepts, approaches, and circular economy models were introduced to participants.