Circular economy decisive to sustainable economic growth: workshop
Friday, 09:08, 15/10/2021
A workshop held in Hanoi on October 14 highlighted the circular economy as the future of equal and sustainable economic growth.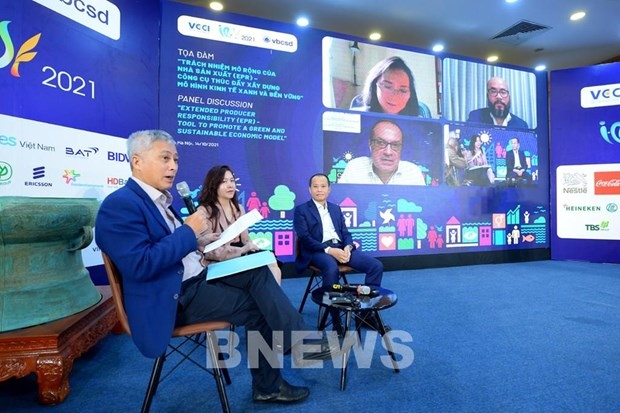 The event, part of the annual Vietnam Corporate Sustainability Forum 2021, was organised by the Vietnam Chamber of Commerce and Industry (VCCI) and the Vietnam Business Council for Sustainable Development (VBCSD). It saw the participation of about 500 delegates from ministries, sectors, business associations, domestic international organisations, and enterprises via videoconference.

Nguyen Quang Vinh, Secretary General of the VCCI, said over the past years, thanks to efforts by the Government, relevant agencies, and many enterprises, the concept of "circular economy" has become much more familiar to the business community.

A circular economy brings a new approach to the use of materials in a more effective and economical manner while constantly reminding people about using limited resources like water, energy, materials, and food in a way that gives those resources a longer life cycle and higher value compared to the existing method.

An economy can achieve a "closed cycle" thanks to the all-round engagement of sectors, industries, and consumers through the sharing of information, the application of new business models, and the combination of supply chains so as to reach science-based targets with support from the legal system and management rules from the Government, said Vinh, who is also Secretary General and Vice Managing Director of the VBCSD.

Mai The Toan, Deputy Director of the Institute of Strategy and Policy on Natural Resources and Environment, held that the State should strongly encourage the development of models for connecting and sharing the circular use of products and waste, and mobilise the engagement of different sources of resources in society.

Brendan Edgerton, Director of Circular Economy at the World Business Council for Sustainable Development, pointed out that the global economy is just 8.6% circular. Without strict monitoring, global material use in 2060 would double that in 2015.

He also made recommendations about the road map for building a circular business strategy, noting that each enterprise needs to improve its production process, products, and business model.