Can Tho attracts largest FDI project of US$1.3 billion
Monday, 18:00, 08/02/2021
VOV.VN - Can Tho City's People's Committee granted an investment registration certificate on the morning of February 8 to representatives from investors of the O Mon II Thermal Power Plant Project.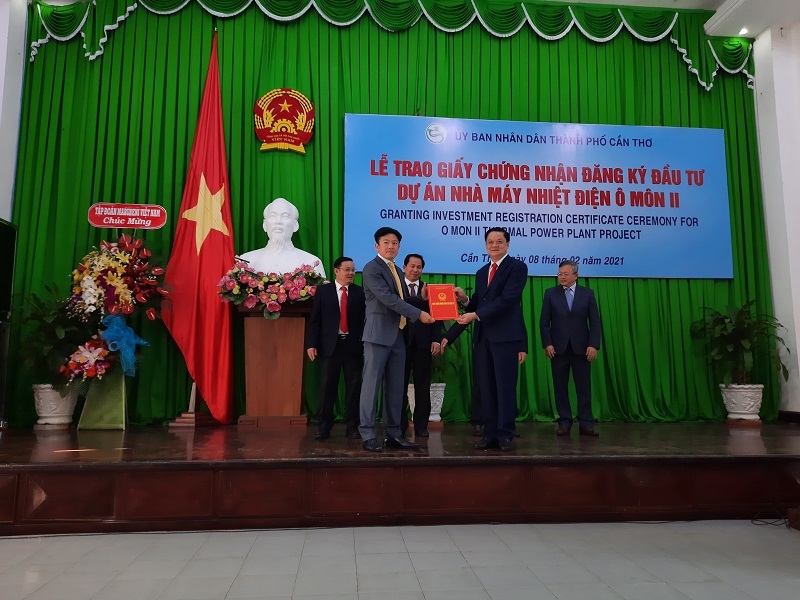 The US$1.3 billion project features a design capacity of 1,050 MW and includes major investors such as Vietnam Investment Construction and Trading Joint Stock Corporation, along with Marubeni Group of Japan.
The factory aims to meet increasing demand for electricity from the regional power grid and the national power system, thereby attracting domestic and foreign investment in order to continue contributing to socio-economic development in Can Tho and throughout the Mekong River Delta region.
O Mon II Thermal Power Plant represents the largest-ever FDI project in Can Tho, which has increased the number of FDI projects in the region to 85, with total registered capital of approximately US$2 billion, including seven Japanese FDI projects capitalised at more than US$1.3 million.
Tai Miura, general director of Marubeni Asian Power Vietnam Co., Ltd, spoke highly of timely and strong support offered by relevant agencies of Can Tho in order to facilitate the firm's procedures as a means of swiftly obtaining an Investment Registration Certificate.
Miura also stressed that the project will make further contributions aimed at meeting the power development needs of the city and the wider region, adding that the company has committed to using hi-tech equipment in implementing the project, minimising the environmental impact, and transferring technological expertise to the locality.
During the event, the chairman of Can Tho City's People's Committee Tran Viet Truong expressed his belief that the participation of both Marubeni Group and Vietnam Investment Construction and Trading Joint Stock Corporation will help deploy the O Mon II thermal power plant project in line with the schedule. Indeed, it will ultimately contribute to accelerating the local economy as well as generating jobs for residents.
He therefore emphasised that the city will strive to create the optimal conditions as part of the implementation of the project, create an open investment environment, and turn Can Tho into a reliable and attractive destination for investors.