Businesses anticipate a comprehensive economic recovery programme
Tuesday, 17:09, 12/10/2021
VOV.VN - Representatives of leading Vietnamese firms expect the Government to put a comprehensive economic recovery programme in place to adapt to the new normal as the country moves into the post pandemic period.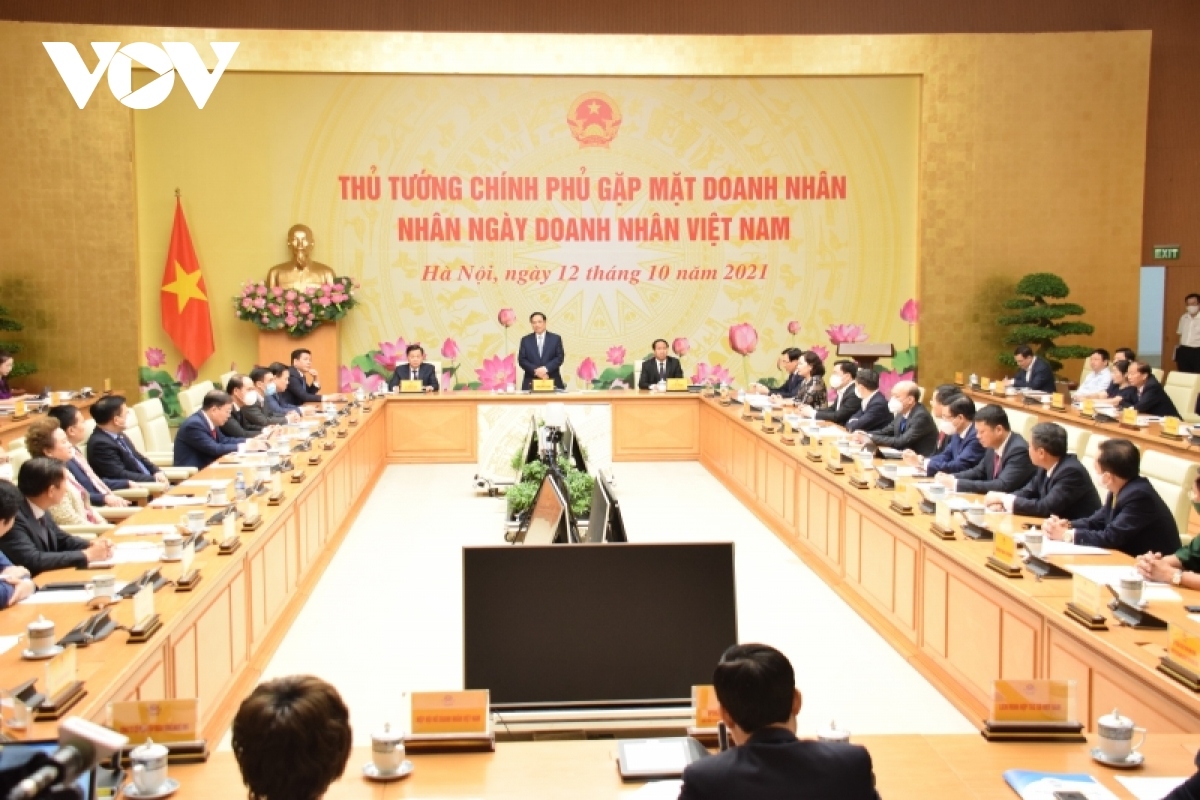 They expressed their expectations during to a meeting with Prime Minister Pham Minh Chinh in Hanoi on October 12 to mark Vietnam Entrepreneurs Day (October 13).
COVID-19 – a real test for the business community
Pham Tan Cong, president of the Vietnam Chamber of Commerce and Industry, pointed out the COVID-19 pandemic represents a severe test to the business community on their quest to maintain production and stay afloat.
Since its initial emergence in January 2020, the pandemic has taken a heavy toll on the national economy, disrupting production lines, markets, money circulation, and the workforce. 
"It will certainly take a long time to get the economy back on track, so businesses long for a comprehensive economic recovery programme that is scientifically designed, highly feasible and suitable to their needs, while serving as a basis for localities, industries and businesses to develop their own recovery plans," said Cong.
Furthermore, he said businesses also expect the Government to continue promoting administrative reform, creating an open, transparent, and equal business investment environment, whilst increasing dialogues with State agencies to facilitate their operations.
The VCCI president also stated that the COVID-19 pandemic also presents a chance for the domestic business community as they strive to enhance their governance capacity, respond better to market fluctuations, carry out digital transformation, and restructure their workforce in a sustainable manner.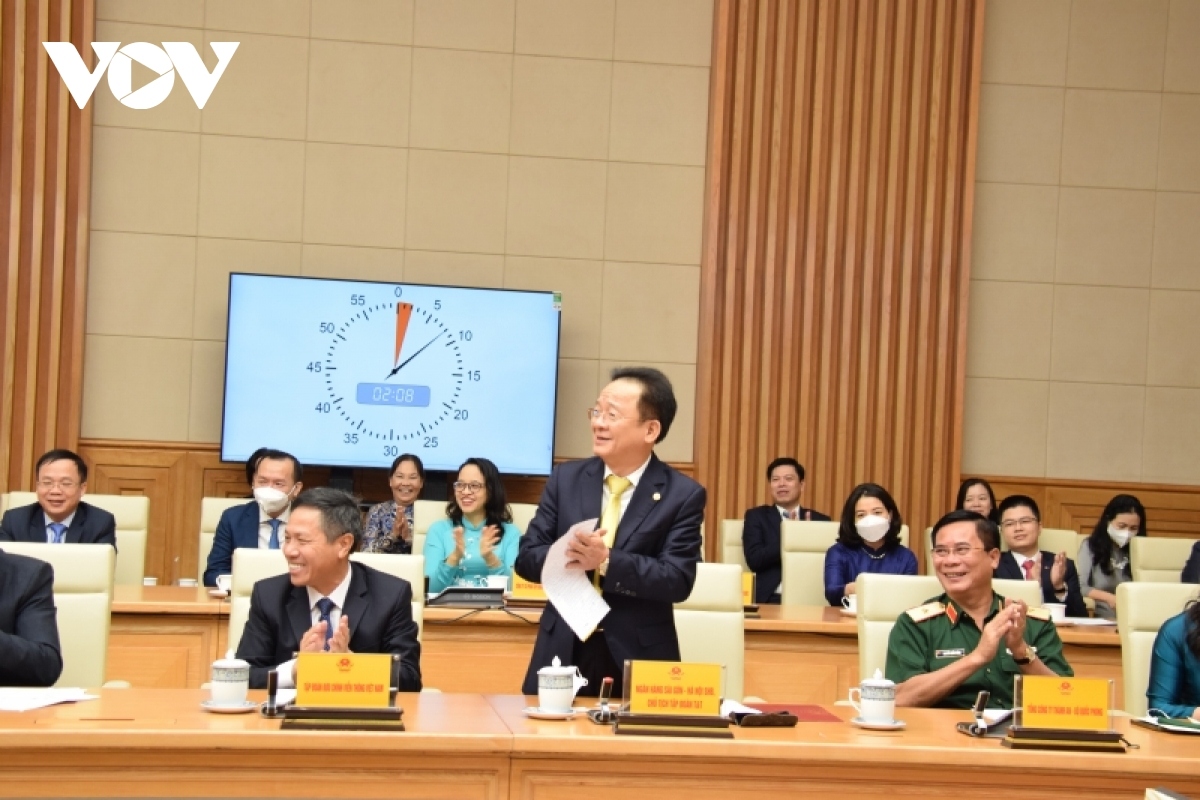 Concurring with Cong's view, Nguyen Thi Nga, CEO of SeABank and BRG Group, said that both the Party and State have introduced a range of guidelines and policies over the past year to support the business community during the turbulent period.
She highly appreciated the Government changing its zero-COVID-19 strategy to a model of living safely with the virus in an effort to help businesses maintain their production and supply chains.
"We support the Government's COVID-19 prevention and control measures and vow to devote ourselves to the national construction cause and the COVID-19 fight," said the female CEO.
Meanwhile, Le Vinh Son, chairman of Son Ha Stainless Water Tank Company, agreed that the prolonged impact of the COVID-19 pandemic has dealt a big blow to business production, forcing firms to both adapt to and fight to survive the current situation. However, along with their own efforts, firms expect the Government to introduce viable solutions, along with creating a suitable environment in which they can overcome the numerous difficulties during and after the pandemic.
"I think the Government should stabilise the fiscal policy, support firms to get sufficient capital to overcome difficulties, and ease conditions for firms to access credit relief packages for their recovery efforts," suggested Son.
PM's commitment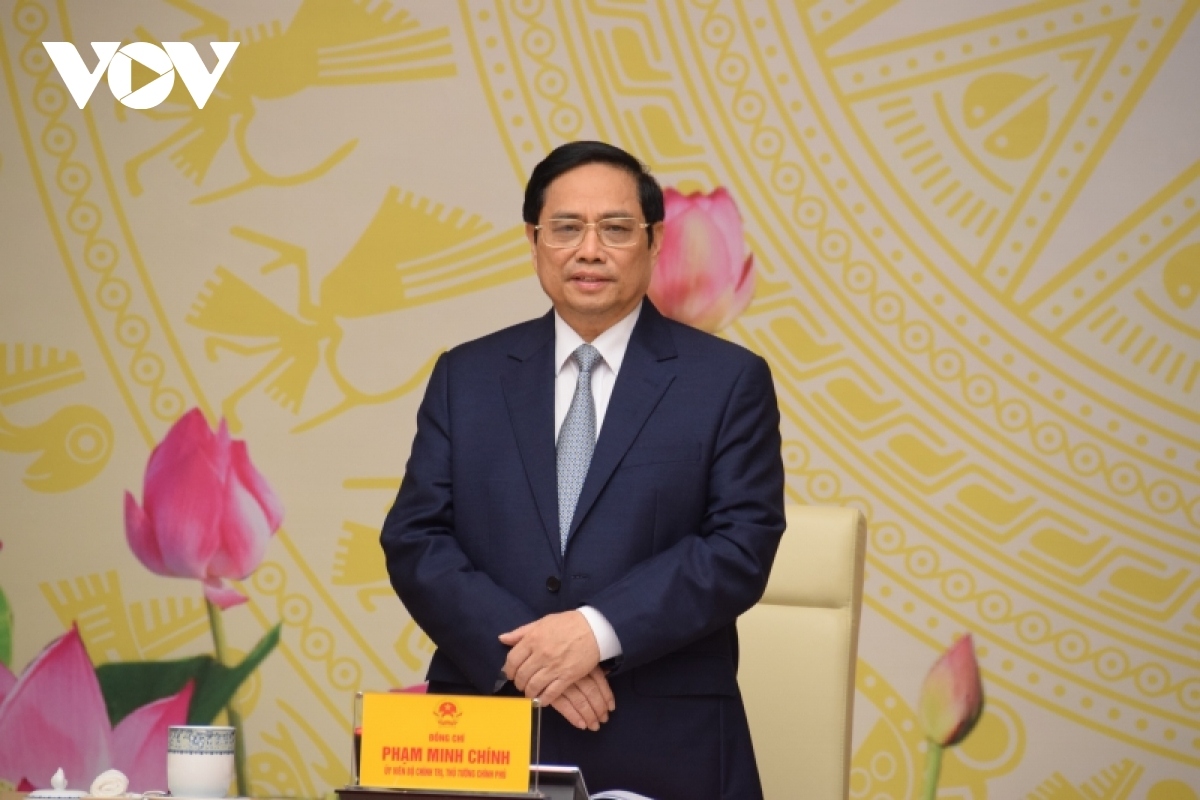 Addressing the meeting, PM Chinh reaffirmed the important role the business community plays in national socio-economic development. He expressed his hope they will continue to accompany the Government to overcome this difficult period and develop a strong and prosperous nation.
He stated that the Government has reported to the National Assembly Standing Committee that they are considering extending payment of the value added tax, corporate income tax, personal income tax, and land rent.
The Government will soon provide temporary guidance on safe, flexible adaptation, and effective COVID-19 control measures in order to create favourable conditions for businesses to operate normally.
Moreover, Government will also soon complete a socio-economic recovery and development package which will primarily focus on supporting the recovery process and promoting business production. This will especially help small and medium-sized enterprises and those that are able to recover and take advantage of post-pandemic opportunities.
Over both the middle and longer terms, PM Chinh noted that the Government will perfect institutions, mechanisms, and policies to adapt to the new context, promote dialogues with businesses, and increase investment in transportation and information infrastructure as a way of supporting businesses.
The Government leader also called on businesses to constantly renew their thinking, seek out opportunities in challenges, and quickly adapt to the new situation, in order to affirm their position within the domestic market and effectively penetrate the global market.