Bangladesh explores Vietnam's rice production for import deal
Monday, 11:32, 28/11/2022
VOV.VN - Bangladesh needs to import rice to meet its local demand, with Vietnam emerging as a potential supplier, Bangladeshi Minister of Food Sadhan Chandra Majumder said during a recent working session with the leadership of the Vietnam Southern Food Corporation (VINAFOOD II).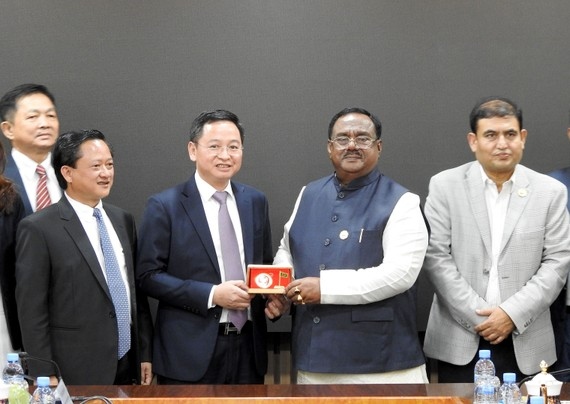 Majumder said the Bangladeshi delegation had inquired into the rice production capacity of Vietnam and VINAFOOD II, as well as the implementation of a contract between the two sides, during their visit.
Nguyen Huy Hung, chairman of directors' board of VINAFOOD II, for his part, introduced the company's production capacity, saying VINAFOOD II owns a network of production facilities mainly in the Mekong Delta region, as well as a string of warehouses that boast a total storage capacity of approximately 1.2 million tonnes of rice.
Under the ongoing memorandum of understanding (MoU) on rice trade between Vietnam and Bangladesh, VINAFOOD II first began to provide rice for Bangladesh in 2011 with 450,000 tonnes, and the figures stood at 250,000 tonnes, 52,500 tonnes, and 230,000 tonnes in 2017, 2021, and 2022, respectively.
Hung proposed receiving Bangladeshi support for extending the MoU, which is set to expire on December 31, 2022.
Minister Majumder confirmed that VINAFOOD II is a reliable rice supplier to Bangladesh. He also revealed that Bangladesh had already agreed to extend the MoU on rice trade with Vietnam for another five years.