Argentina boosts agricultural and energy cooperation with Vietnamese localities
Thursday, 11:06, 22/09/2022
VOV.VN - Vietnamese Ambassador to Argentina Duong Quoc Thanh had a recent meeting with the Governor of Buenos Aires province and chaired a discussion with departments of foreign affairs, energy, agricultural development, production, science and technology with a number of senators from Buenos Aires.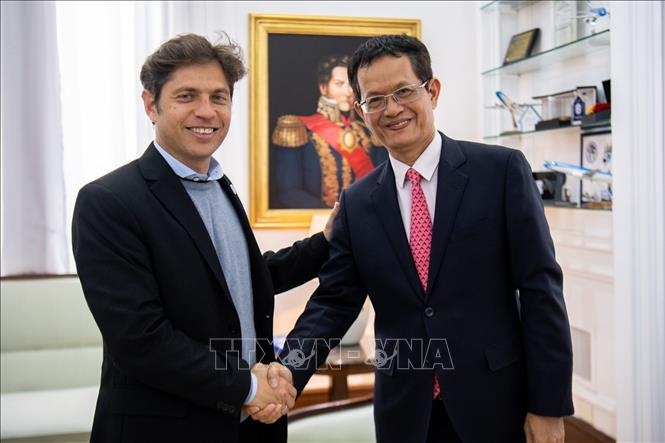 Speaking at the meeting with Governor Kicillof, Ambassador Thanh affirmed that the nation places great importance on relations with Buenos Aires, particularly as it is the region with the third largest export turnover of Argentina to Vietnam. In line with this, the nation wishes to strengthen and further expand the exchange of goods with the area.
The Ambassador said that the country is actively diversifying trade relations and is keen in South America, with a specific focus on Argentina.
In the context of the two sides celebrating 50 years of diplomatic relations in 2023, efforts are being made to bolster cooperation between localities in order to achieve substantive results and focus on a number of co-operation areas where Buenos Aires has strengths such as agriculture and energy.
In response, Governor Kicillof expressed his delight at the development of relations between the two countries, as well as that between Buenos Aires and Vietnamese localities over recent years.
He also emphasized that amid the global economy facing plenty of difficulties, Argentina and Buenos Aires remain ready to further promote their strengths in agriculture and energy, with increases in exports serving to attract investment from countries globally, with Vietnam being a priority.
Governor Kicillof added that Buenos Aires is seeking offshore oil and gas exploration opportunities and hopes to receive considered attention from the Vietnamese side when moving to the stage of exploitation and processing.
He expressed his desire to invite leaders of Ho Chi Minh City to visit the Argentine capital in 2023 to discuss local co-operation measures as a contribution to fostering sound ties between the two countries' localities.
At a seminar held among representatives of the provincial government and legislative agency, the two sides shared the political situation and economic structure of Vietnamese localities, as well as those of Buenos Aires.
They agreed that along with boosting trade, they will also consider co-operation and exchanges in a number of agricultural technology projects to develop a renewable energy network and a digital economic transformation programme.
Buenos Aires is the economic, commercial, and manufacturing hub of Argentina, with the largest area at 307 571 km² and is the most populous place in the country at more than 18 million people.
The Argentine capital contributes 35% to the Gross Domestic Product (GDP), 50% of production output, and 35% of national export turnover.