Algeria, Senegal, Vietnam explore stronger trade and investment ties
Tuesday, 11:48, 06/04/2021
VOV.VN - More than 200 businesses from a range of different sectors based in Algeria, Senegal, and Vietnam participated in an online trade exchange between April 5 and April 6 in an effort to fully tap into the potential of future trade and investment co-operation.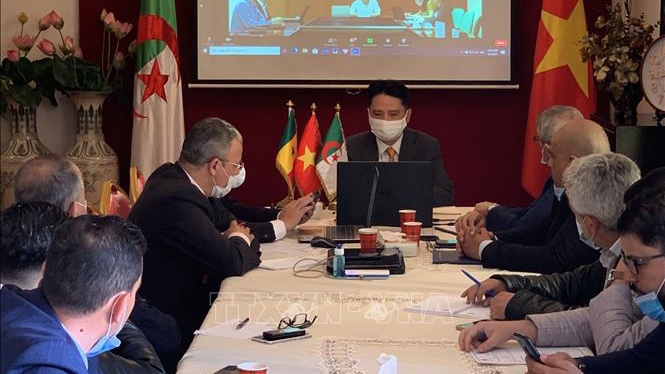 In his address at the event, Vu Ba Phu, director of the Vietnam Trade Promotion Agency (Vietrade) under the Ministry of Industry and Trade, said that amid the countries keeping borders closed to slow the spread of the novel coronavirus (COVID-19) pandemic, the event marks an important opportunity. Indeed, it can help to enhance connections among various enterprises from the three nations.
Phu added that he hoped participants would optimise this chance to explore each other's potential and demands in order to to set up partnerships, thereby supporting each other to overcome difficulties and achieve common development.

Moving forward, Vietrade is ready to co-ordinate alongside partners and create favourable conditions in which firms from all three countries can co-operate in an effective, stable, and long-term manner, said Phu.

In response, Vietnamese Ambassador to Algeria and Senegal Nguyen Thanh Vinh stated that this marks the second trade exchange which has been held since the initial outbreak of COVID-19. The first event held in November last year took place with the goal of giving enterprises from the three countries a chance to meet and exchange ideas.

He also affirmed that the Vietnamese Embassy will accompany businesses from the three countries as they explore each other's markets and seek greater co-operation opportunities.

Representatives from both Algeria and Senegal introduced their potential and co-operation demands, while making proposals to implemented measures aimed at further promoting mutual understanding among firms and establishing partnerships.

Roubai Nasreddine Mounir, president of Algeria's Organisation of National Economic Development, said the potential that exists in the Algerian market serves as an important gateway for Vietnamese businesses as they try to enhance investment and trade ties with the Northe African country and throughout Africa.

Hoang Duc Nhuan, Vietnamese Trade Councilor in Algeria, who is also in charge of Senegal, Mali, Nigeria, Gambia, and Tunisia, introduced the potential of greater import-export activities between the nation, Algeria, and Senegal. This is in addition to relevant regulations, payment methods, and tax policies in the three markets.

Nhuan also called on firms from Algeria and Senegal to attend upcoming trade events taking place in the country, such as Vietnam Expo 2021 from April 14 to April 17, and Vietnam AutoExpo 2021 which will run from May 20 to May 23.

Statistics compiled by Vietnamese customs indicate that trade with Algeria totaled US$150 million in 2020, a 20% drop from the figure of US$190 million recorded in 2019, with this fall being put down to the spread of the COVID-19 pandemic.
Major Vietnamese export staples to Algeria include coffee, rice, peppercorn, seafood, steel, computers, electronics and spare parts, and equipment, while the country imports pharmaceuticals, minerals, and animal feed from the North African nation.
Although progress has been made, current economic co-operation activities with Algeria are still far from matching the two countries' potential and meeting expectations, Nhuan noted, adding that Algerian investors should intensify their investments in the country as it represents a gateway to the Asian market and the 650-million-strong ASEAN market.
Furthermore, Vietnamese trade exchanges with Senegal reached a mere US$95 million in 2019.
The nation primarily exported such as rice, pepper, confectionery, cereal products, mobile phones and spare parts, textiles, vegetables, and seafood to Senegal, while importing cashew nuts, animal feed and raw materials, along with cotton.