Agro-forestry-fisheries exports hit record high at US$48.6 billion
Wednesday, 11:38, 29/12/2021
VOV.VN - The export turnover of Vietnamese agro-forestry-fishery products this year reached a new record of nearly US$48.6 billion, increasing by 15% year on year and exceeding the set target by US$4.6 billion, according to the Ministry of Agriculture and Rural Development (MARD).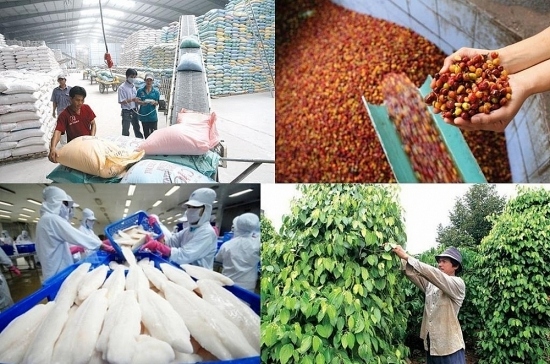 The MARD reported that among major export items, farm produce staples account for US$21.49 billion, up 13.5%, forestry products US$15.96 billion, up 20.7%, fisheries products US$8.89 billion, up 5.6%, and livestock products US$434 million, up 2.1%.
Most notably, there were 10 key agricultural products with export turnover exceeding US$1 billion each and six items above US$10 billion each. They included wood and wood products, shrimp, vegetables, cashew nuts, rice, and rubber.
This year has seen the agricultural sector's added value increase by 2.85% to 2.9% compared to the same period from last year.
In 2023 the MARD will co-operate alongside various Vietnamese embassies and trade offices in foreign countries to acquire market updates and boost trade promotions in major markets such as   Japan, the Republic of Korea, the United States, the European Union and China.
It will also work closely with localities to promote the consumption of agricultural products, especially through supermarket chains and e-commerce platforms.