500 fastest-growing companies in 2023 announced
Thursday, 19:38, 16/03/2023
Tin Viet Finance JSC, Dolphin Sea Air Services Corporation and VPS Securities JSC are among the top 10 in the 500 fastest-growing companies in Vietnam (FAST500) this year as announced by the Vietnam Report JSC and the VietNamNet e-newspaper on March 16.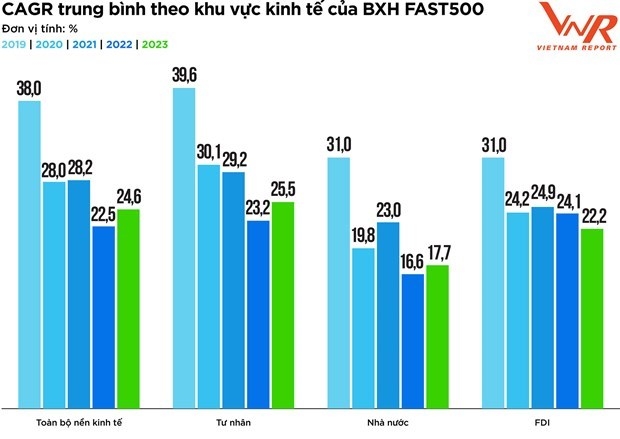 The others in the top 10 included Vantage Logistics Corporation, Bee Logistics Corporation, Super Cargo Service Company Limited, Deo Ca Traffic Infrastructure Investment JSC, MB AGEAS Life Insurance Company Limited, Thien Phu Si JSC and Mirae Asset Securities (Vietnam).

According to a survey by Vietnam Report, the compound annual revenue growth rate (CAGR) of the FAST500 has improved significantly as compared with the 2017-2023 period.

Notably, the private sector took the lead in terms of the CAGR this year with a growth rate of 2.3%, reflecting the strong recovery of the sector – the main engine of the national economy.

Up to 81.3% of the questioned firms said they maintained their revenue growth in 2022, and some 70% experienced increases in profits from the previous year, of which more than half recorded growth of over 75%.

However, only 69.6% of the enterprises recorded hikes in the number of orders, a drop from the previous year's 82.1%.  

Despite the reduction, the layoff rate in the 2021-2022 period was lower than that in 2020-2021.

According to Vietnam Report General Director Vu Dang Vinh, 62.5% of the businesses said they will expand their operations and 37.5% want to maintain their business scale.

FAST500, launched in 2011, is based on the compound annual growth rate (CAGR) in terms of revenue and business performance. Other criteria such as total asset, after-tax profit, and companies' prestige on the media are also taken into account to identify their scale and stature in the industries they operate in.