Vietnam's ancient costumes revitalized
Sunday, 20:33, 17/10/2021
VOV.VN - There has been a growing interest in ancient costumes in Vietnam over recent years.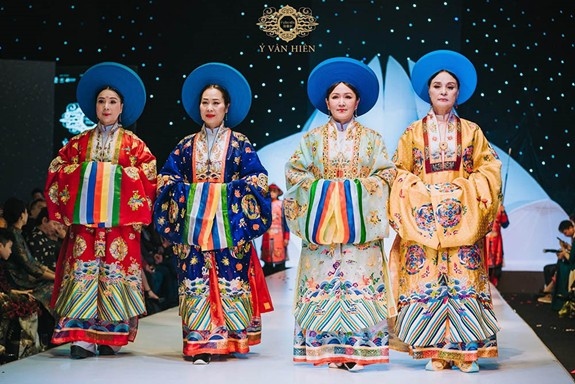 Out of a desire to preserve Vietnamese culture, more and more people are wearing ancient costumes on special occasions such as weddings, birthdays, and Lunar New Year, or for yearbook photos.
Each feudal dynasty in Vietnam had its own costumes, with the Nhat Binh costume (square-collared), "ao giao linh" (cross-collared), and four-piece dresses, to name a few. Many people wear traditional costumes to show their respect for the cultural values of Vietnam.
"I focus on ancient costumes, which are now og great interest to many young people. I introduce royal wedding costumes from the Nguyen dynasty, the Nhat Binh costume, and ancient long dresses," said Tran Thi Thuy Linh, a fashion designer in Hanoi.
To remake ancient costumes, designer Linh and her co-workers at the clothing brand "Y Van Hien" have done a lot of research. They have introduced reworked patterns of traditional costumes during Lunar New Year festivals at Thang Long Royal Citadel.
"I am wearing an ao tac of the Nguyen dynasty. This costume was worn on special occasions and for royal rituals. Wearing ancient costumes has been trending on social networks, and I hope it will draw young people's attention to Vietnamese culture," said Nguyen Thu Hien, who is interested in Vietnam's ancient costumes.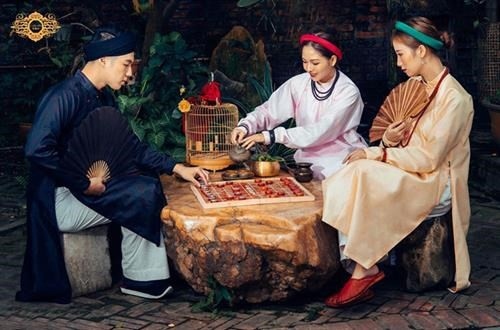 Fashion designer Khang Huy says the costumes of different philosophies. The ao dai ngu than (five-piece dress) shows one elegant style of the past.
"The dress has many layers, which is characteristic of Vietnamese tradition. It set an example of how to dress properly." said Huy.
Following the trend, many designers and clothing brands have reworked the styles so that they are both traditional and comfortable. Ms. Nguyen Thi Huong, the owner of the Huong Bridal fashion brand, said she has remade many models designed for royal families during the Nguyen dynasty (1802-1845), with intricate embroidery patterns and soft silk material.
"My clothing brand focuses on royal wedding costumes. This year, many young couples prefer traditional wedding designs with lotuses and cranes, which symbolize good luck," said Huong.
Many workshops and exchanges have been organized to popularize Vietnam's ancient costumes with today's young people.