Vietnamese designer unveils Mediterranean-inspired collection in Israel
Friday, 09:45, 16/09/2022
Vietnamese fashion designer Dang Phuong Minh has unveiled an exclusive haute couture collection during a fashion show in Tel Aviv, Israel.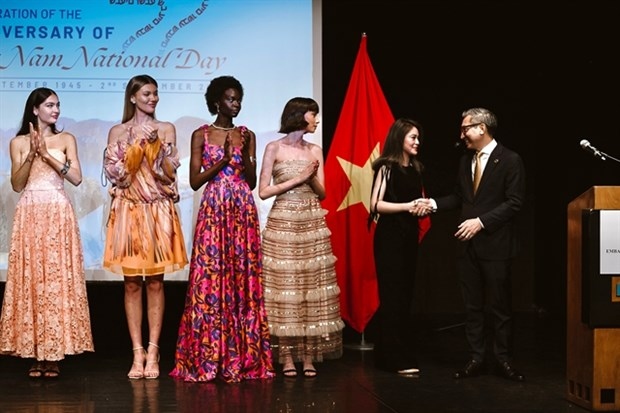 The show held at the invitation of the Vietnamese Embassy in Israel was among the numerous activities of the Vietnamese Days in Israel.

Taking place on Monday at the Suzanne Dellal Centre for Dance and Theatre, the show presented the creations from the My Lullaby Resort 2022 collection of the designer. All creations were constructed by hand from start to finish and made from high-quality silk.

"Through this collection, I want all my international friends to know that Vietnamese fashion includes not only the ao dai (traditional long dress). Craftsmanship, together with the artistic ideas that were forged through generations, has resulted in delicate and refined creations," said designer Minh, who is also the Creative Director of her own fashion brand My Lullaby.

Exclusively created for the show in Tel Aviv, the collection was constructed by hand from start to finish, sewn with extreme attention to detail and finished by the most experienced and capable sewers, using time-consuming and hand-executed techniques.

"It can be said the art of craftsmanship has turned each creation into an artwork," she said.

The designer explained the vibrant and energetic colours of the collection symbolise a liberal spirit, embodying the friendly relationship between Vietnam and Israel.

Pham Minh Trang, spouse of the Vietnamese Ambassador to Israel, said, "I have spent many years living in Mediterranean countries and I fell in love with the magnificent landscape of the region, as well as the open-minded local people. As soon as I saw the first creations of the My Lullaby Resort 2022 collection, with vibrant colours inspired by the Mediterranean region, I believed that the collection would make a strong impression on audiences in Israel. That's why I decided to invite designer Dang Phuong Minh to showcase her collection in Tel Aviv."

For the designer, the show in Tel Aviv is an opportunity for her to present artistic fashion creations to Israeli and international friends.