Vietnamese culture introduced at UN Bazaar International Fair 2022
Wednesday, 12:59, 23/11/2022
VOV.VN - The Permanent Mission of Vietnam to the United Nations (UN), the World Trade Organisation (WTO) and other international organisations in Geneva introduced a range of the country's unique handicraft products and culinary culture at the UN Bazaar International Fair 2022 held on November 22 in Geneva.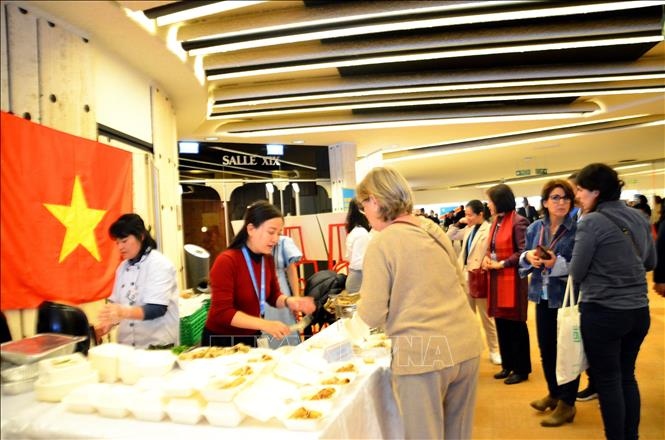 The event was organised by the UN Women's Union (UNWG) with the aim of raising money in a bid to support disadvantaged children around the world, including Vietnamese children.
Ambassador Le Thi Tuyet Mai, head of the Permanent Mission of Vietnam to the UN, WTO, and other international organisations based in Geneva, emphasised that aside from introducing traditional local products and dishes, the mission's goal is to elevate the nation's image and its people to international friends.
Most notably, the mission has served to introduce the country's image through beautiful paintings created by veteran artist Pham Kim Nam, which have made international friends extremely surprised and admire the art.
The paintings produced by artist Pham Nam Kim, including some 3D embossed paintings, have brought a colourful art space, reflecting the different perspectives about people and their daily life.
In addition, these paintings also feature some famous scenic spots in Hanoi such as Hoan Kiem Lake, known locally as Sword Lake, Quoc Tu Giam, also known as the Temple of Literature, and the ancient brick gate known as O Quan Truong.
Artist Pham Nam Kim expressed his hope that the paintings provide an opportunity to elevate the beauty of his homeland whilst offering visitors greater insights into Vietnam.
All of the proceedings from the sale of the paintings will therefore be used to help Vietnamese children who are facing difficulties as a result of COVID-19 pandemic and economic crisis.
This year, Vietnamese food stall has successfully captured special attention of visitors at the fair due to traditional delicious dishes being on offer, such as Hanoi spring rolls, as well as unique handicraft and silk products, along with conical hats.