Vietnamese books promoted at Asian Festival of Children's Content 2023
Friday, 11:39, 26/05/2023
VOV.VN - As the Country of Focus (COF), Vietnam has set up booths introducing local children's books, special and creative publications, as well as reading devices at the 14th Asian Festival of Children's Content (AFCC) which opened in Singapore on May 25.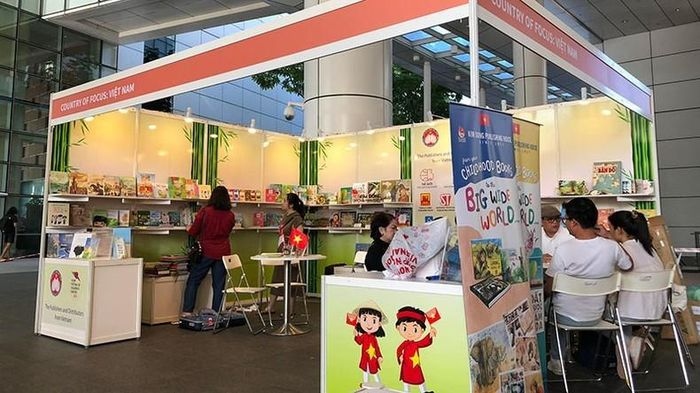 Ten Vietnamese publishing companies, including Kim Dong Publishing House and two other book companies, are showcasing products at the festival as part of activities to celebrate 50 years of diplomatic ties between Vietnam and Singapore this year.
Many images of Kim Dong Publishing House's books have been selected by the organising committee as the theme images for the AFCC. Notably, the image of De Men, which is familiar to many generations of Vietnamese children, was selected by the organising board for visitors, especially children, to scan QR codes in order to witness virtual reality images.
Vietnam will also take part in workshops on education and reading culture among children. Among them is a workshop titled "Publishing Translated Kidlit: Challenges and Opportunities" which draws the participation of editor Le My Ai from Kim Dong Publishing House, along with lecturers Hendarto Setiadi of Indonesia and Tung Roh Suan of Singapore.
Furthermore, the creators of Vietnamese children's book "The Call of the Wild" will share their inspirations in creating stories.
On the final day of the festival on May 28, a Vietnam Night will get underway to celebrate the partnership between Vietnam and Singapore. The event will feature art performances and the exchanges of translated children's books.
The festival provides an exciting opportunity to introduce outstanding Vietnamese children's literature publications, and to promote Vietnamese culture to a global audience, said Le Hoang, vice chairman of the Vietnamese Publishers Association (VPA).
AFCC is the leading festival in Asia for children's stories and young adult fiction. It offers a series of exciting schemes, including panel discussions, presentations, workshops, lectures, masterclasses, networking sessions, and public programmes that promote the creation and appreciation of children's and young adult literature, with a specific focus on Asian themes.