Vietnam claims three golds at International Circus Festival 2022
Thursday, 11:31, 08/12/2022
VOV.VN - The International Circus Festival 2022 awarded three gold, eight silver, and three bronze medals, as well as certificates of merit to participating troupes, at the closing ceremony held in Hanoi on December 7.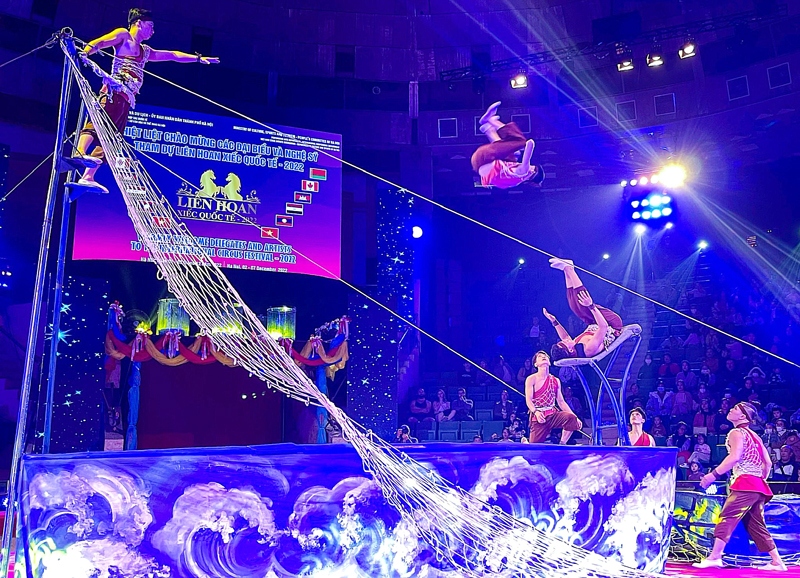 Vietnamese artists from the Vietnam Circus Federation, Vietnam Circus Arts and Intermediate School, and the Phuong Nam Art Theater won the three gold medals for the country.
The Dec. 2-7 event was jointly arranged by the Performing Arts Department, the Ministry of Culture, Sports and Tourism, Hanoi's Department of Culture and Sports, the Vietnam Stage Artists' Association, the Vietnam Circus Federation, and other relevant organisations.
The festival gave a platform for 12 arts troupes from 20 countries and territories to showcase their skills, including those from China, Japan, the UK, Germany, France, the United States, Cuba, and Vietnam as the host nation.
Addressing attendees and participants at the closing ceremony, Deputy Minister of Culture, Sports and Tourism Ta Quang Dong celebrated the success of the festival.
The performances put on by international and domestic artists showcased creativity, skill, and the unique cultural features of each nation, helping to strengthen friendship, boost mutual understanding, and especially develop the genre in both Vietnam and throughout the world, he said.
Held every three years, the International Circus Festival aims to promote cooperation in culture and arts between Vietnam and other countries.
The next festival is scheduled to take place in 2025.