Russian version of Vietnam's famous chronicle launched
Thursday, 12:52, 16/03/2023
An eight-volume Russian version of "Dai Viet su ky toan thu" (Complete Book of the Historical Records of Dai Viet), a famous chronicle of Vietnam, has been translated from the Han (Chinese) language and debuted.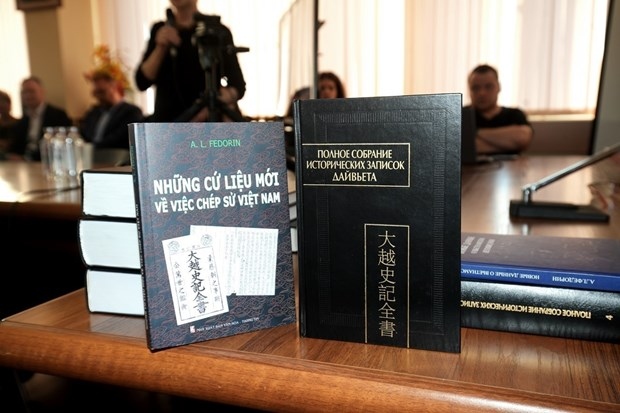 The Institute of China and Contemporary Asia under the Russian Academy of Sciences held an event on March 15 to introduce the Russian version, a work by a team of five scholars.

In his remarks, Kirill Vladimirovich Babaev, acting Director of the institute, said this scientific work is significant to not only the study of Vietnam in Russia but also the development of the two countries' relations.

The work is the most important of its kind to the Oriental studies in Russia in recent decades, he noted.

Talking to the Vietnam News Agency, senior researcher Andrey Lvovich Fedorin, head of the translation team, said the first ideas and steps of this project was made in the 1990s, and it took 30 years to complete the work.

The translation of such an important history book was a highly difficult task, but his team applied themselves to the work with their passion for the Vietnamese history and the wish to bring the knowledge closer to readers in Russia, he added.

Assoc. Prof. Elena Yakovleva Aleksandrovna from the Moscow State Institute of International Relations said the eight volumes will serve as textbooks at universities of Russia, and that many issues mentioned in the chronicle are still relevant today.

"Dai Viet su ky toan thu" was first compiled by historian Ngo Si Lien as ordered by King Le Thanh Tong in the 15th century. It was later amended and supplemented by other scholars.