Photo exhibition marks 30th anniversary of diplomatic ties with RoK
Thursday, 18:48, 31/03/2022
VOV.VN - A press photo exhibition officially opened in Seoul on March 31 to celebrate the 30th founding anniversary of Vietnam's diplomatic ties with the Republic of Korea (RoK).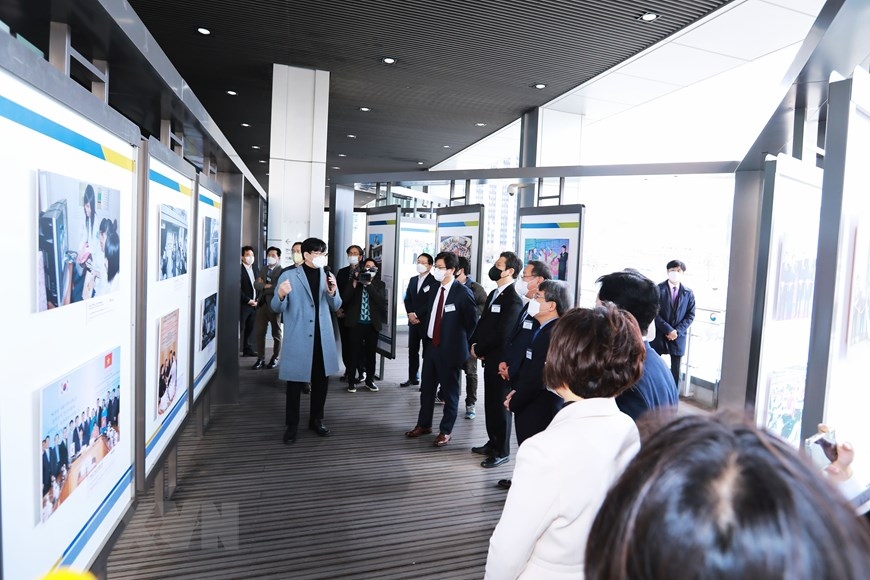 As part of his opening speech at the event, Seong Ki-hong, president and CEO of Yonhap News Agency, emphasized that since the establishment of diplomatic ties in 1992, the relationship between the two countries has developed in a multitude of fields across politics, economy, culture, and society.
He went on to express his hope that the photo exhibition will contribute to developing bilateral relations, as well as promoting people-to-people exchanges between the two countries in the future.
Due to the complicated development of the COVID-19 pandemic, Vu Viet Trang, general director of the Vietnam News Agency (VNA), was unable to attend the opening ceremony.
In a congratulatory message sent to the event, Trang thanked Yonhap news agency for working closely alongside the VNA to showcase impressive images to the public about co-operation between the two countries over the past three decades.
Through these photos, the VNA and Yonhap can review the important milestones in the development of co-operative relations, cultural and sporting exchanges, and valuable support during the challenging period caused by the COVID-19 pandemic, Trang noted.
Furthermore, the RoK's Minister of Culture, Sports and Tourism Hwang Hee underscored the importance of the press photo exhibition as a way of strengthening co-operation in the communication field between the two sides.
Vietnamese Ambassador to the RoK Nguyen Vu Tung said that for more than three decades, relations with the RoK have constantly developed in both bilateral and multilateral aspects, despite facing global and regional turmoil, adding that both sides have benefited from the strategic partnership based on friendship, trust, and mutual respect.
The exhibition, running from March 31 to May 5, is expected to feature 86 photos by journalists of the two media agencies, materials detailing the 30-year history of the diplomatic ties and videos containing information on the two countries.