National costume revealed ahead of Miss Intercontinental 2023
Friday, 11:47, 15/09/2023
VOV.VN - "Cà Kheo " or "Stilts" designed by Bui The Bao has been selected as the national costume to be worn by Vietnamese representative Le Nguyen Ngoc Hang at the upcoming Miss Intercontinental 2023 pageant.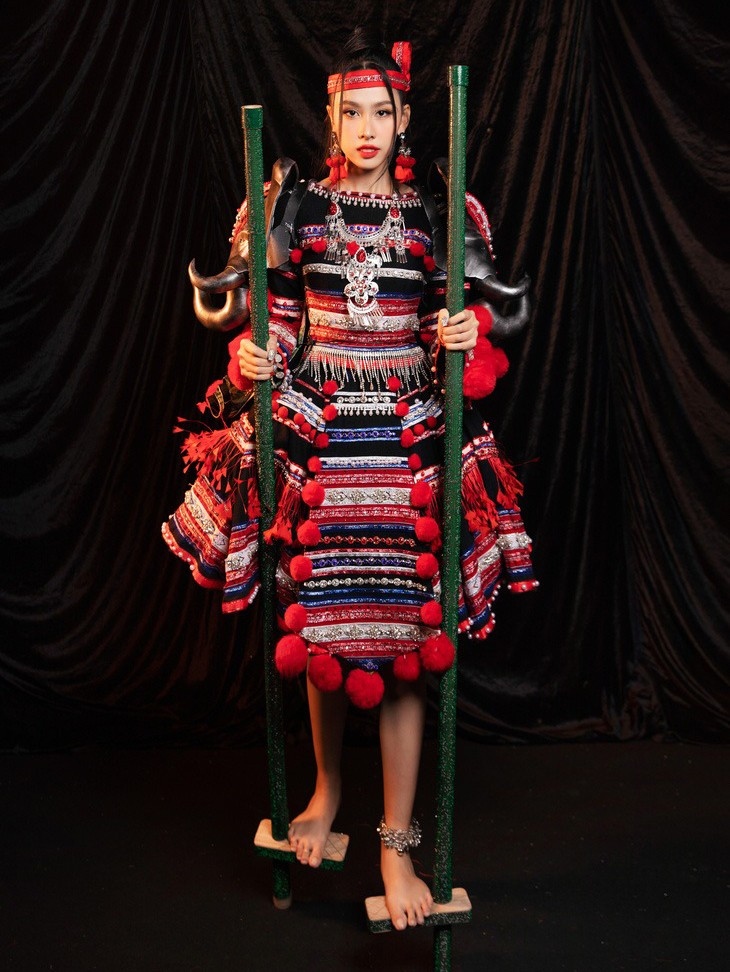 According to details provided by the designer, the outfit has been embroidered to feature plenty of eye-catching brocade motifs.
Previously, it was also worn by Hang at Miss Grand Vietnam 2023, during which time it received plenty of positive compliments from Vietnamese fans.
It is expected that the national costume will surprise international audiences as the Vietnamese representative will wear it whilst performing her stilt-walking skills at Miss Intercontinental 2023.
Born in 2003 in Ho Chi Minh City, Hang is the second runner-up of Miss Vietnam 2022. She is currently studying International Business at Western Sydney University in Australia and is fluent in English, whilst also boasting the ability to communicate confidently in Japanese and Korean.
Hang has achieved various sports awards in karate such as black belt second dan at the national level, along with the bronze medal in the National Phu Dong Health Association Athletics Tournament.
She is active in extracurricular activities and charity projects having attended a non-profit project supporting the elderly. In 2018, she joined in composing paintings to celebrate 45 years of diplomatic relations between the country and Singapore. In 2019, Hang participated in a dance to publicise environmental protection in the MV Viet Nam Tai Che (Vietnam recycles) by singer Trong Hieu. 
Miss Intercontinental 2023, one of the largest and oldest beauty pageants in the world, is scheduled to take place in Egypt this December.
Previously, Vietnamese representative Le Nguyen Bao Ngoc was crowned Miss Intercontinental 2022 after beating more than 70 contestants from all over the world.