Movie star Van performs in Netflix hit
Sunday, 18:21, 11/07/2021
Vietnamese movie star Ngo Thanh Van, known as VanVeronica, will be seen in part two of a US superhero film starring Charlize Theron, Kiki Layne and Matthias Schoenaerts.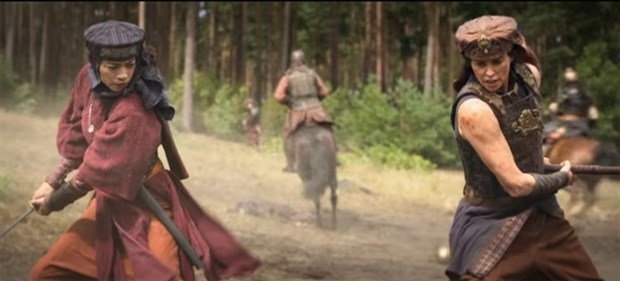 She will play the role of a warrior named Quynh in the sequel to The Old Guard, a production directed by Gina Prince-Bythewood and written by Greg Rucka.
The Old Guard is based on scriptwriter Rucka's comic book of the same name. It features a team of immortal mercenaries, led by a warrior named Andy, played by Charlize Theron, on a revenge mission. It was released on July 10, 2020 on Netflix.
Van competed against many Asian candidates for the role of Quynh. Her performance has had good reviews from both critics and audiences. 
According to Variety.com, the script has been completed for part two of The Old Guard, and filming is expected to begin next year. Theron confirmed she will be back in the film. 
Van began her movie career in 2004 with a leading role in Rouge, a 13-part TV series produced by international channel MTV Asia, after spending years in music and on the catwalk.  
In 2006, she played a leading role in Dong Mau Anh Hung (The Rebel), a kung fu film directed by Vietnamese-American Charlie Nguyen. The film won the Grand Jury Award at 2007 Sharing Visions, a biennial international film festival for Vietnamese filmmakers held in Los Angeles. 
Movie star, director and producer Van of HCM City has performed in several films and TV shows, including Hollywood films Bright and Crouching Tiger, Hidden Dragon II: The Green Legend, a sequel to the 2000 Hollywood hit Crouching Tiger, Hidden Dragon.