Mekong Delta artists join fight against COVID-19
Sunday, 10:42, 29/08/2021
VOV.VN - Artists in the Mekong Delta city of Can Tho have been releasing songs and artwork about COVID-19 to encourage frontline forces and people to fight the pandemic.
COVID-19 has prevented Vietnamese artists from travelling around to find new ideas. However, the pandemic and related topics have become a popular source of inspiration for them over the past year and a half.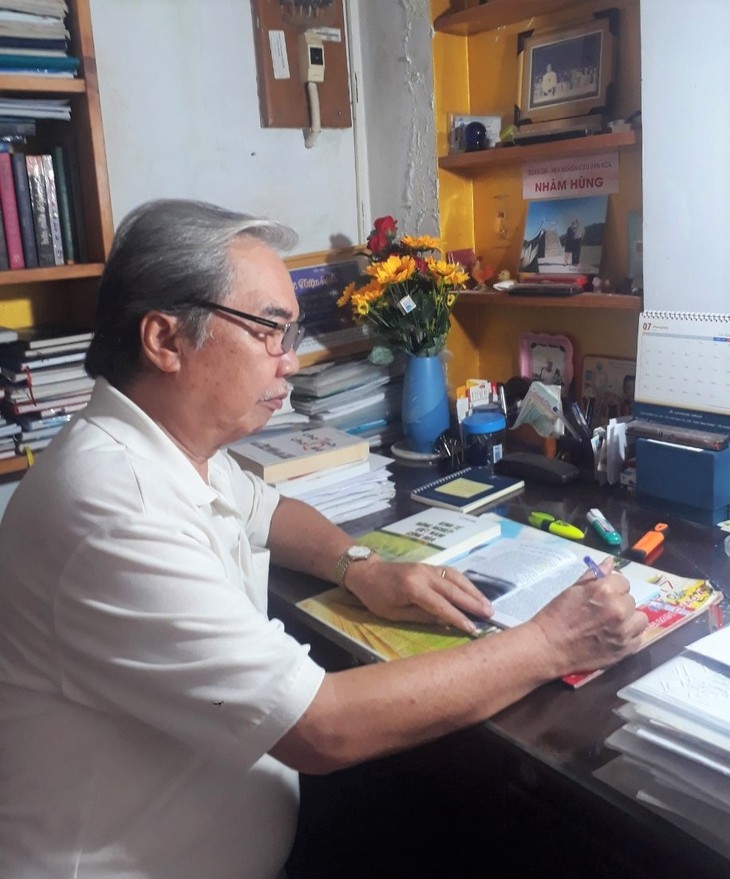 Songwriter Nham Hung wrote a vong co (nostalgic) tune which calls on the community to donate to the national COVID-19 vaccine fund. The song has gone viral, as well as his other songs, for sending positive messages to society. Hung said fighting COVID-19 is everyone's mission, including musicians.
"I also wrote a song about the effort of soldiers in the fight against the pandemic, and another about people helping each other in difficulties," he said.
"All of my songs are for entertainment, but also to help raise people's awareness of disease prevention and control measures and boost their spirit", he added.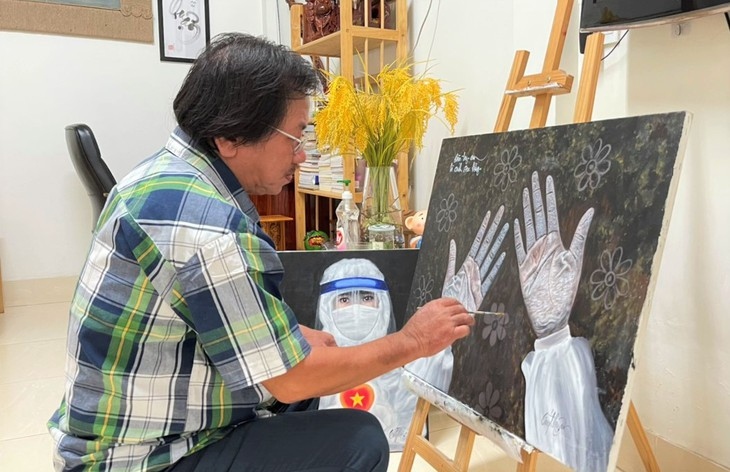 Over the past month, painter Tran Quy Thuan has created 4 acrylic-on-canvas works about medical workers fighting COVID-19. The paintings portray their hard work: swollen and flaky hands after long hours of working in gloves, a heart with a Vietnamese flag inside it drawn on a doctor's chest, and a baby carrying his milk bottle getting ready to go to a quarantine camp. 
Thuan revealed that "I uploaded my paintings to social media and have received a lot of support," Thuan said,"Many people have shared my posts because we feel the same way about the frontline workers. We hope they stay strong and healthy to quickly contain the pandemic."
Nguyen Thanh Kien, Chairman of Can Tho City's Union of Arts and Literature Associations, said local artists have been very active in contributing to the battle against COVID-19 with their artwork. The Union is publishing their work in online exhibitions and premiers.
"We have received more than 20 stories, poems, and songs from the artists, some of which will be published in this month's episode of Can Tho Literary Magazine. We welcome more creative works that help spread information about COVID-19 prevention and control", Kien noted.