Local, int'l soloists to perform in chamber music concert
Saturday, 20:25, 15/04/2023
The Ho Chi Minh City Ballet Symphony Orchestra and Opera (HBSO) will present a concert of chamber music and arias composed by the world's great composers at the Opera House on April 16.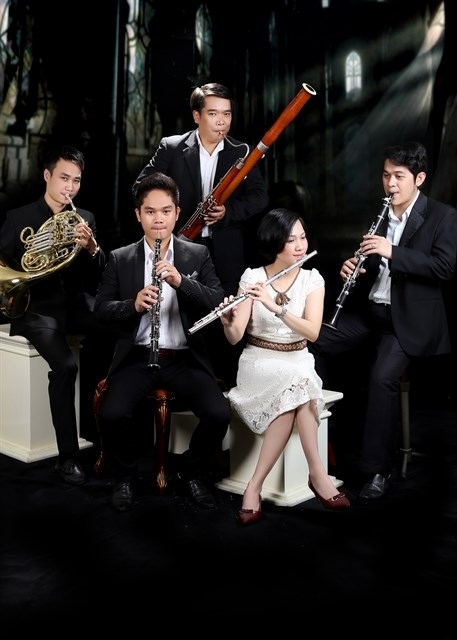 The "Chamber Music" concert will open with Trio for Flute, Clarinet and Piano by acclaimed American musician and composer Russell Peterson.

The composition will be played by flutist Hoang Yen, clarinetist Anh Quan and pianist Thuy San.
Two compositions, Pavane, op. 50 by French composer Gabriel Fauré and Entrance of the Queen of Sheba by German-born English composer George Frideric Handel, will be performed by a harp ensemble consisting of Dan Vy, Nguyen Dan and Thuy Duong.

The programme will also include Suite for Woodwind Quintet, op. 57 by French composer Charles-Edouard Lefebvre, featuring flutist Nguyen Nhat Chi Lan, oboist Pham Khanh Toan, clarinetist Vo Minh Dong, bassoonist A Tach, and horn player Dai Nghia.

Brass Quintet Op 65 by Dutch composer Jan Koetsier will feature trumpeters Huy An and Duy Bang, horn player Dai Nghia, trombonist Anh Quan, and tuba player Miho Takashima.

Franz Schubert's Der Hirt auf dem Felsen (The Shepherd on the Rock), D. 965 will be performed by soprano Pham Khanh Ngoc, clarinetist Anh Quan, and pianist Ju Sun Young from the Republic of Korea.

After the intermission will be excerpts from Goldberg Variations, a composition by Johann Sebastian Bach, featuring HBSO's string orchestra.

The concert will present two arias from operas Serse by Handel, and Tito Manlio by Venetian composer Antonio Vivaldi, with performance of baritone Dao Mac.

The evening's final piece Concerto for 2 Violins in D Minor by Johann Sebastian Bach will be played by two violinists Tang Thanh Nam and Meritorious Artist Duong Minh Chinh.

Conductor Tran Nhat Minh, a graduate of the Moscow Tchaikovsky Conservatory, will lead the concert.