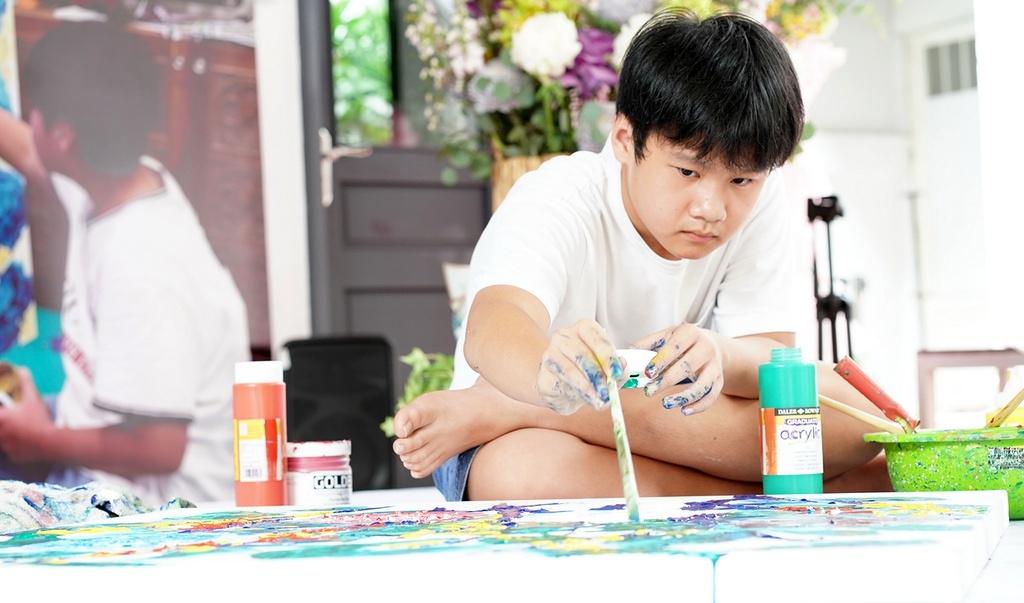 Anh's parents said they have collected nearly VND3 billion after a week of organizing an auction of his son's paintings at the online exhibition "Pandemic Paintings" from July 16-22.
The proceeds have been transferred to University Hospital of Medicine and Pharmacy in Ho Chi Minh City to purchase medical equipment, including ventilators, external defibrillators, protective gear, and N95 masks, they said.
"I am happy to make a small contribution to the fight against COVID-19," confided the 14-year-old boy. "I hope the doctors and nurses are always safe and in good health to help us overcome the pandemic."
HCM City, the largest coronavirus hotspot in Vietnam, has implemented social distancing measures to halt the spread of the virus in the community.
Without going out, Xeo Chu spent time pursuing his hobby at home. The young artist and his family decided to hold an auction of his paintings through an online exhibition to support the COVID-19 fight.
This is not the first time Xeo Chu has contributed to charity programmes in Vietnam. Last November, the child artist used all his proceeds from selling his paintings to help disadvantaged pupils at seven schools in the central province of Quang Tri.
He opened his first exhibition at the George Berges Gallery in New York in late 2019.
For his talent, Xeo Chu has been known internationally as Vietnam's Jackson Pollock – a famous American painter in the 20th century.