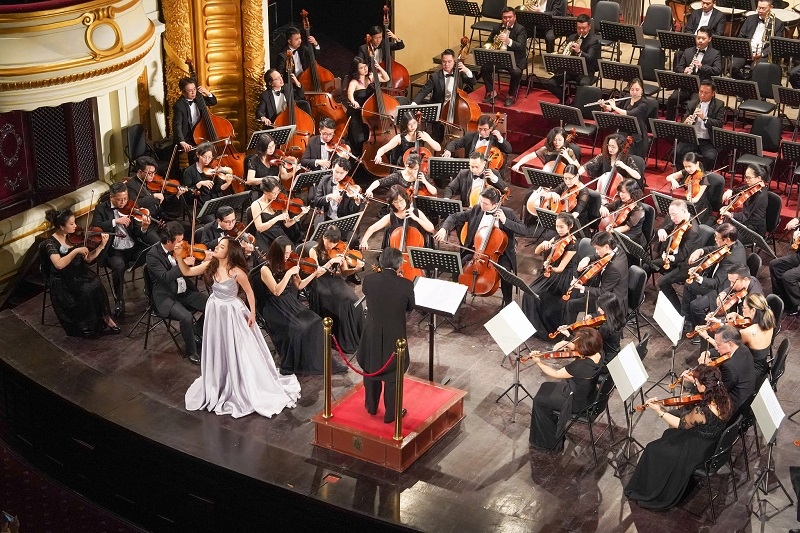 The Subscription Concert Vol.135 by Vietnam National Symphony Orchestra, which is entitled "Musik aus Deutschland" will be on stage at 8pm on April 22 at Hanoi Opera House, No 1 Trang Tien street, Hoan Kiem district, Hanoi.
Under the direction of Japanese conductor Honna Tetsuji, the artists from VNSO will play the Piano Concerto No.1 D minor, Op.15 by J. Brahms; the Prelude and Liebestod from Opera "Tristan und Isolde" by R. Wagner and Opera "Der Rosenkavaliere" suite by R. Strauss.
Young Vietnamese pianist Nguyen Dang Quang and soprano Pham Duyen Huyen will join the show.  
Japanese conductor Honna Tetsuji has been Music Director and Principal Conductor of the Vietnam National Symphony Orchestra (VNSO) since 2009. He has conducted almost all of the major orchestras in Japan and been invited to many international music festivals worldwide.
In Vietnam, he has conducted works including opera "Ms. Sao" by Do Nhuan and opera "Red Leaf" (world premiere) by Do Hong Quan, "Yuzuru" by Dan Ikuma, "Bamboo Princess" by Numajiri Ryusuke, ballet "Firebird" by Igor Stravinsky and ballet "Spider's Thread" by Akutagawa Yasushi with the VNSO and the Vietnam National Opera and Ballet.
Soprano Pham Duyen Huyen is a university graduate and has  a postgraduate degree of Vietnam National Academy of Music, under the guidance of Prof. Nguyen Trung Kien. In 2009, Duyen Huyen won the second prize in the Musical Chamber Theater Competition.
In March 2011, she was invited to perform with the Northeast German Orchestra in the Toyota Concert. She also sings in many concerts of the orchestra of the Vietnam National Academy of Music and the Vietnam Symphony Orchestra.
At the age of 23, pianist Nguyen Dang Quang has a respectable record with many major domestic and international music awards in piano. He won the gold award and special award of Cheonan Music Festival in Korea;  the 1st prize in Group B under 15 years old in the 13th International Val Tidone International Music Competition in Italy; and  first prize in piano contest held by Vietnam National Academy of Music in 2013, among others.
Tickets for the performance can be purchased via the website https://vnso.org.vn/orchestra.html or http://ticketvn.com for free delivery.