Hat boi performance introduced to international friends
Wednesday, 19:06, 22/12/2021
Fifteen typical types of characters in Vietnamese Hat boi (classical opera) are being introduced at https://ichlinks.com/exhibition/hat-boi/, offering audience an insight into this genre of traditional music.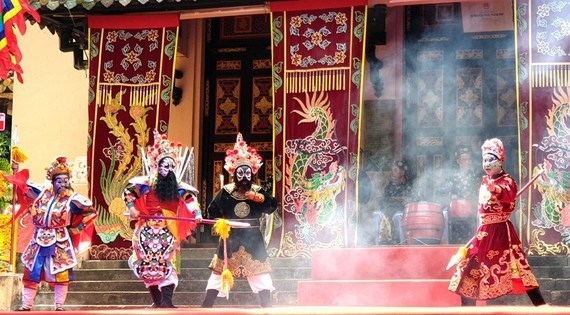 This is a project jointly held by Cultura Fish (Hieu Van Ngu) and the Networking Centre for Intangible Cultural Heritage in the Asia-Pacific Region under the auspices of UNESCO (ICHCAP).

Artists and instrumentalists of the Ho Chi Minh City Hat boi Theatre, including Meritorious Artists Huu Danh, Linh Phuoc, Linh Hien and Thanh Trang, join the project.

"Hat boi", a traditional performance art of Vietnam, has a rich historical foundation, and quite an influence on the community. Just like any traditional art form, the stage of Hat boi also consists of Vietnamese aesthetic values, reflecting the life, stories, and aspirations of the common Vietnamese people.

IchLinks is an online platform that stores a large amount of information on intangible cultural heritages shared among the member countries of the Asia-Pacific region, with advanced features for searching, browsing and information management.

Founded in 2020, Cultura Fish is a group of passionate members that come from various disciplines. Its core mission is to inspire and promote the beauty of Vietnamese traditional practices and culture for the youth.