France, Vietnam celebrate anniversary of relations with baguette contest
Sunday, 14:30, 21/05/2023
To celebrate the 50th anniversary of diplomatic relations between France and Vietnam (May 19), the French Consulate in HCM City, the Agency of Business France, the French Chamber of Commerce and Industry in Vietnam (CCIFV) and Taste France co-hosted a baguette-making contest on May 19.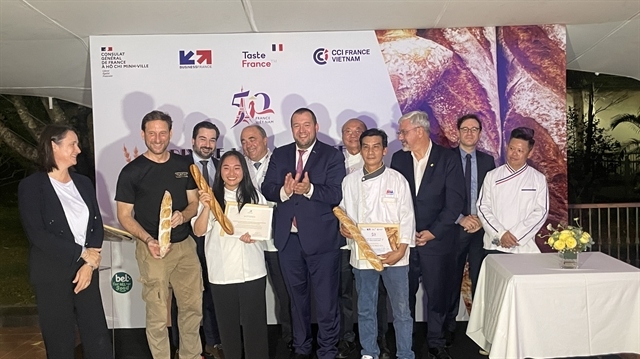 According to the Consulate General of France in HCM City, the event was a unique opportunity to showcase the bakers' creativity and passion for baking, while celebrating the friendship of the two countries.
The contest was open to everyone: professional bakers, students who are pursuing the profession of bread making and even amateurs. The contestants was scored based on the idea, presentation and taste of the bread they make.
Chef Guillaume Gomez, personal representative of the President of the French Republic for gastronomy, presided over the jury.
The three winners of the contest will receive training in Singapore at Lesaffre's bakery center. This unique opportunity will allow the winners to discover new techniques and perfect their baking skills.