Female artist brings Vietnamese stage puppetry to the world
Sunday, 12:38, 17/09/2023
VOV.VN - Meritorious Artist Nguyen Ho Thuy Tien who has a great passion for Vietnamese stage puppetry and has made efforts to bring the art genre to the world.
Stage puppetry is an art form in which the expression, gestures, and actions of hollow puppets are manipulated by people.
There are different forms of stage puppetry: stick puppets, rod puppets, string puppets, hand puppets, and finger puppets. In Vietnam most puppetry plays are based on folk tales or excerpts of traditional theater performances. 
"For a long time international friends have only spoken about water puppetry when talking about Vietnam's puppetry art. In 2013, for the first time, after introducing my show 'Vietnam in puppets', I wanted to participate in international puppetry festivals to share experience with international friends and say to the world that Vietnam now has a wealth of puppetry arts, which I'm the first to bring to the world."
Meritorious Artist Nguyen Ho Thuy Tien, who has a great passion for puppetry, has told VOV this at a recent talk. Tien was the first artist in Vietnam to create her own solo puppet show.
Born into a family with a rich tradition in the arts, her father is a puppetry director and her mother is a puppeteer, Thuy Tien developed a love of the genre at a very young age.
After graduating from a teaching faculty, she decided to pursue a career in puppetry. Tien has had 25 years' experience as a performer at the Thang Long Water Puppet Theatre.
It all began in 2008 when she was one of seven people from five countries selected to attend a training course on Asian arts held in the Republic of Korea by UNESCO's International Association of Theatre for Children and Young People.
The puppetry script she created for the course stood out from the others and was chosen to be performed at the graduation ceremony.
Praise from the audience and her fellows gave her the courage to develop a solo puppetry show in Vietnam.
"This is my show so I wrote the script, directed it myself, and had to improve my foreign language in order to perform it abroad. I'm not only a performer, but also in charge of all the logistics. It's extremely hard, but I was extremely proud when my performance earned high praise, " Tien recalled.
She added, "Everyone said it was beyond their expectation to discover that Vietnam has such unique puppetry. The title of my solo performance, 'Vietnam in puppets', says it all – the puppets represent Vietnam's culture and people."
Since deciding to develop solo puppetry performances, Tien has had to spend a lot of time making marionettes and designing control sticks for them. She usually has to make four or five prototypes before completing a marionette, said Tien.
She said, "I learned that fishermen use lead weights for fishing, so I decided to put lead weights in the puppets to weigh down my styrofoam marionettes. I found I could use the same method with bamboo and rattan marionettes. To end up with the beautiful puppets I have now, I had to throw away a lot of puppets. But that's okay. It's my passion." 
Tien has also invested a lot of time in developing her skills, writing scripts, and choosing music and lighting for her shows because "I want my puppets to impress viewers at first sight."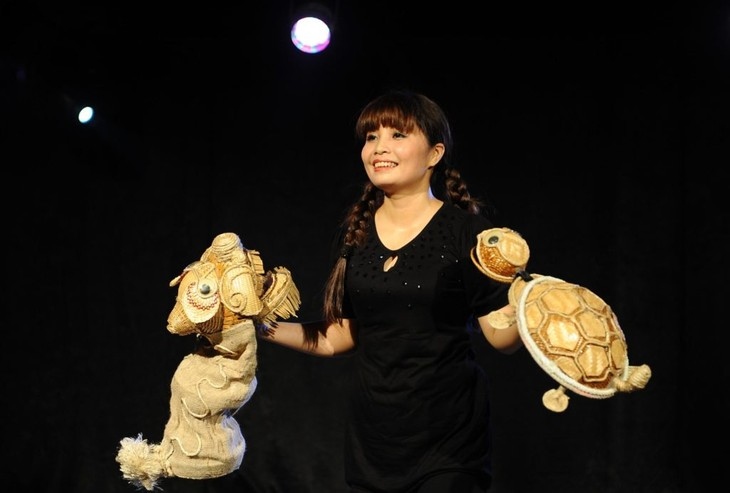 "I want to show to the festival goers Vietnamese puppets and puppetry is part of the culture of Vietnam. Even at the shows I hold at home, I deliver the same message, especially for young people, who sometimes don't know what a four-flapped dress looks like," according to Tien.
Stage puppetry is a highly synthesis performance art which includes the arts of sculpture, painting, architecture, and music. Understood as a form of dynamic art, audience receive puppetry in a dynamic state like cinema, singing, dancing, and music.
The characteristics of puppetry art is the combination of shaping art and performing art. Referring to puppetry art, it is impossible not to mention the creativity of the designers. For the performance on stage, the graphic artist plays the key role.
But in a solo show, the puppeteer sometimes has to manipulate more than one puppet at the same time, and is always both director and actor, needing patiently developed technique to win over the audience with subtle gestures and facial expressions.
Strong lighting and music tie the show together. Tien's show 'Vietnam in puppets' consists of several sections featuring rod puppets, marionettes, hand puppets, and other types of puppets.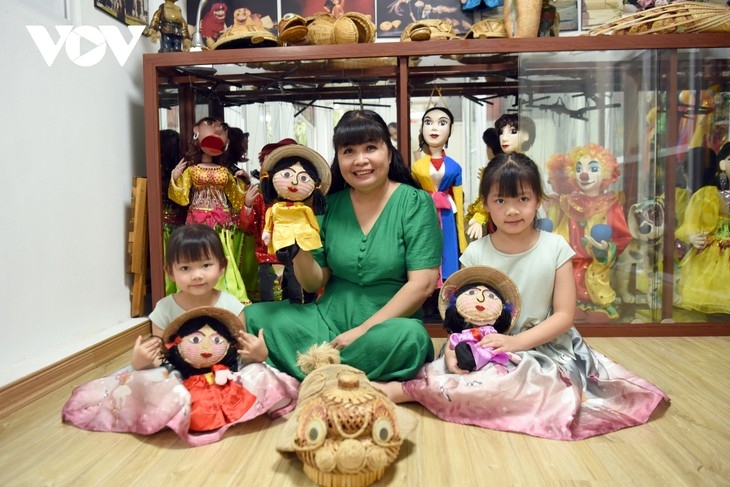 The highlights of the show are a skit celebrating springtime and one featuring the four mascots of Vietnam – the dragon, the unicorn, the turtle, and the phoenix. All the puppetry is performed against a background of Cheo (traditional theater).
The show brought Tien accolades at the International Puppetry Festival in Indonesia in 2013 and in Thailand in 2014.
The same show earned Tien a "Best Female Artist" award at the International Theatre Festival for Young Audiences held in Romania in October 2017.
Tien now owns dozens of string and rod marionettes, which she considers heirlooms to be handed down to her son, Xuan Duy, 19 years old, who has already inherited his mother's love and talent of puppetry.
Duy said his mother's love of puppetry has given him a better understanding of Vietnamese culture.
"When I'm on a stage performing, I feel very proud that I can spread a love of puppetry and Vietnamese culture to the audience, especially the young people," said Duy.
Tien has opened classes for children to teach them the art of puppetry and a love of Vietnamese culture through creating simple puppets and performing with them.
She shared, "I organize workshops to show young people that making simple puppets demonstrates traditional beliefs and culture, both intangible cultural heritages, which  are very close to us and very simple."
Although stage puppetry has not attracted a large audience in Vietnam yet, Tien believes the art will grab the attention of young people soon and establish itself as an effective way to promote Vietnamese culture to the world.