Calligraphy for the New Year – a fine custom of Vietnamese culture
Sunday, 12:16, 30/01/2022
VOV.VN - Calligraphy originated from the art of writing. It has long been considered part of Vietnamese culture and has considerable effect on Vietnam's socio-economy.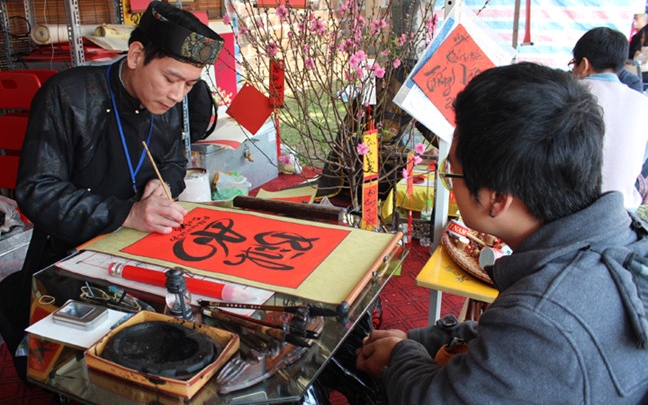 The art of Vietnamese calligraphy was born at the same time as the introduction of Chinese characters in Vietnam. However, the Vietnamese people developed their own styles of writing.
Vietnam's calligraphy has been passed down from generation to generation. The art reflecting the writer's style, education level, personality and ideology. 
Calligraphy can be written on a variety of materials like paper, cloth, wood, stone, pearl, and pottery. It is a combination of handwriting and painting, creating unique artwork.
Calligrapher Nguyen Quang Thang from the Institute of Han Nom studies, said, "Vietnamese calligraphy is divided into 3 categories. They include a popular calligraphy form which is written by an old scholar on the street and serving a wider public."
"The second form is considered to be more professional in which calligraphers write horizontal lacquered boards and parallel sentences at religious, historical and cultural relic sites. As Vietnam integrates into the world, there is a new form of calligraphy for exhibition."
Apart from Chinese characters, calligraphy is also written in Nom, which is the logographic writing system of the Vietnamese language. The calligraphy written in Vietnamese also shows the creativity of Vietnamese people and normally featured Vietnamese folk verses, proverbs, and poems.
"Vietnamese calligraphy was heavily affected by Confucianism. Calligraphy is considered a visual art," said calligrapher Nguyen The Son.
In recent years, calligraphy has flourished. It is written on greeting cards, calendars, and decorations during the Lunar New Year Festival. Many calligraphy clubs have been set up attracting young people.
"If you understand calligraphy, you can read old administrative documents such as family annals and ordains. In early 2000, calligraphy became a trend, attracting the attention of artists," said calligrapher Pham Van Tuan. 
It has been a Vietnamese tradition to have a calligrapher write special Chinese characters for the Lunar New Year.
Calligrapher Nguyen Thanh Tung said, "In the past, only old scholars could write calligraphy. Now, young people can do it. Calligraphy is like an art work, reflecting the writer's soul. Each writer has his/ her own writing style, showing his/ her life experience and knowledge of literature, language, and architecture."