Ballet suite "Carmen" to be staged in Ho Chi Minh City: HBSO
Monday, 18:54, 27/03/2023
The Ho Chi Minh City Ballet Symphony Orchestra and Opera (HBSO) on March 27 announced that the ballet suite "Carmen" will be performed in the city on April 2 at the Saigon Opera House.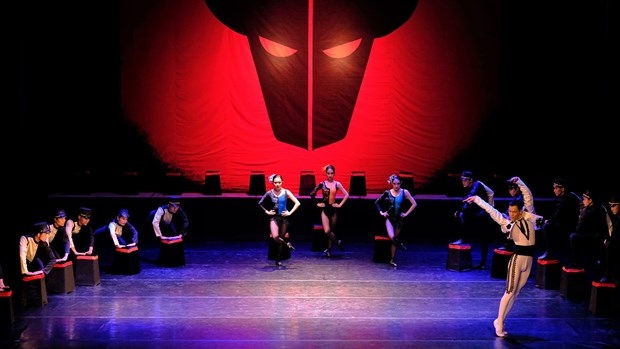 French composer Georges Bizet wrote Carmen in 1875, but as an opera. Then in 1967, Cuban choreographer Alberto Alonzo created a ballet suite based in part on Bizet's music, but more specifically on music by Russian composer Rodion Shchedrin. 
Instead of interpreting the content of the original opera, Shcerdrin famously referred to his bold work as more than an arrangement, rather "a creative meeting of the minds". In particular, the familiar tunes of the opera have been vividly transformed through the arrangement of strings and percussion.
The original ballet was not appreciated for its use of distinct styles to tell an already familiar story. It was not until more than 50 years later that the ballet continued to be performed around the world.
People's Artist Kim Quy brings the world-famous ballet to the stage in Ho Chi Minh City with artist Nguyen Thu Trang playing the role of Carmen, Ho Phi Diep as Don Jose, and Dang Minh Hien as the toreador Escamillo.
Together with the ballet suite "Carmen" on the April 2 show, two ballets - "Falling Angels" and "Dépaysement" - will be performed.
"Falling Angels" is a very short piece about the challenges of being gay. Choreographed by Nguyen Phuc Hung, it will be performed by Do Hoang Khang Ninh and Sung A Lung.
Meanwhile, "Dépaysement" (disorientation) is choreographed by Julien Guerin with music by famous composers Frederic Chopin and Ludwig van Beethoven.