Animated film wins first prize in Film Pitching contest
Wednesday, 19:39, 27/04/2022
Truong Hoc Ma Mut (The Mammoth School), an animated film, has won first prize at the Film Pitching contest jointly organised by the Vietnam Film Development Association (VFDA) and the Motion Picture Association of America (MPA).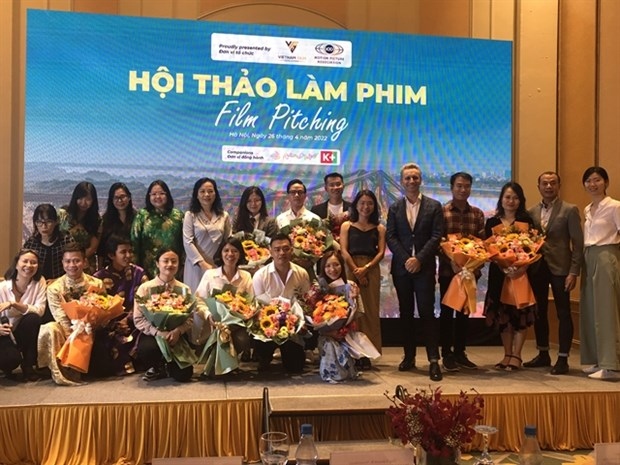 The film by Ngan Zeta, a young freelance screenwriter, is a story about a 13-year-old girl who goes to a Mammoth School for intelligent animals but is discriminated against for being human.

The second prize was awarded to Tu Luc Van Doan (Once Upon a Time in Hanoi) by Doan Tan Dat, a film about the journey of a young man named Tam, who gets caught in a dangerous and unexpected trip by train to Saigon, then flees to France to form Tu Luc Van Doan, the biggest art and literature movement in Vietnam in the first half of the 20th century.

The two winners were selected from 10 finalists with outstanding film projects in Vietnam.

Their names were announced at a Film Pitching Workshop held in Hanoi on April 26 as part of the contest after successfully defending their ideas in front of a jury of Vietnamese and foreign experts.

After the contest, the first prize winner will participate in a short filming course in the United States, while the second will be provided with a set of filmmaking accessories.

The 10 finalists were selected from 41 ideas to enter the pitching round, which was scheduled last year. However, the pandemic forced the organisers to postpone until this year.

The 10 selected projects include Dia va Nang (Land Genie and Fallen Fairy) by team ALT; Death Goes On by team Nguyen My Anh and Tran Phuong Trang; Neu Nhu la Dinh Menh (If It Is a Fate) by Nguyen Thy Phuong Anh; Nhiem Vu 2020 (Mission 2020) by Nguyen Thi Lan Chi and Tran Vi Dai Phu; Tu Luc Van Doan (Once Upon a Time in Hanoi) by Doan Tan Dat; Dem A Dao (Midnigh) by Dang Thu Ha; Dan Ba Thoi Dai by Tran Nhan Kien; Truong Hoc Ma Mut (The Mammoth School) by Ngan Zeta; Ban Sac (Identity) by JOS Creative; and Pho Indie by Nguyen Le Hoang Viet.

The films featured rich and diverse content covering various aspects of life, including love, culture, food and the pandemic.

Organisers said participants were very young filmmakers, with the youngest born in 1997, and some had joined national and international competitions.

During the workshop, the 10 selected projects defended their ideas in front of a jury of renowned experts, filmmakers and producers, including Stephen P. Jenner, the Motion Picture Association of America's Regional Director and Head of Communications for Asia - Pacific; Charlyn Ng, film producer, expert of the Motion Picture Association of America; Phan Dang Di, director, screenwriter and producer; Ngo Thi Bich Hanh, Vice President of BHD Company; and Trinh Thi Thuy Lien, VSTV Content Director (K ).

Speaking at the workshop, Dr Ngo Phuong Lan, Chairwoman of the VDFA, noted the contest was an opportunity for young cinema lovers to interact with and learn from the US and Vietnamese experts.

"Every film starts with a good unique idea that contributes an important part to the film's success. We hope the contest discovers new talents for Vietnamese cinema," Lan said.

Lan also said she was looking forward to seeing great films from the selected projects, and that they should not just "stay as just ideas."

Jenner from the MPA said he hopes the first prize winner would enjoy the training course in Hollywood and turn it into practice when participating in professional film projects at home.

The MPA representative encouraged the young talented Vietnamese filmmakers to create more film projects, saying he regarded them as colleagues and hoped the MPA would accompany them in the future.

According to organisers, the participation of US jury members shows that the cinema industry has returned to normal after two years of suffering from the pandemic.

The Film Pitching contest was initiated and organised in 2020 by the VFDA in collaboration with the MPA, and other relevant agencies have attracted the attention of a large number of filmmakers, particularly the young.

"Green Screen" contest

The VFDA is organising another contest with the theme of environmental protection and sustainable development.

The Green Screen contest, co-hosted by Netflix, was launched in January 2022. 
From now until the end of July 2022, film projects can apply for a chance to be funded by up to VND20 million. 

The contest features simple but inspirational stories focusing on environmental protection. Contestants can convey a simple but inspirational story, or a strong topical story, about the impact of human choices and decisions on the environment.

The length of the competition film must be less than 10 minutes and must apply green measures in the production process, such as recycled water bottles, maintenance without foam boxes, and environmentally friendly filmmaking equipment.

Entries must be produced after January 5, 2022, and must not have entered any other competition. Contestants can submit scripts or projects to the pre-qualification round.

The Green Screen Short Film Contest awards ceremony is scheduled for September 2, 2022.