Xa Phang ethnic minority celebrates arrival of spring
Thursday, 10:49, 03/02/2022
VOV.VN - The Xa Phang ethnic minority people in Muong Cha district, Dien Bien province, celebrate the traditional Lunar New Year (Tet) holiday.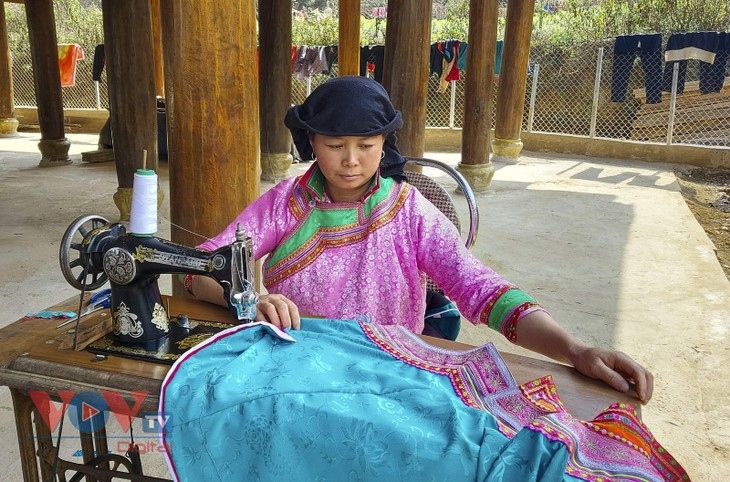 Some other ethnic minority groups celebrate the New Year at different times of the year. The Xa Phang people stick to their unique cultural rituals for this celebration. 
Joy and laughter is everywhere in Then Pa hamlet, Sa Luong commune, these days. The very first day of the new lunar year will be spent performing religious rituals and handing out lucky money to family members. On the second day, people will visit their neighbors to deliver Tet wishes and more lucky money.
Than Chan Hoa, a Then Pa villager, is preparing best clothes for her husband and children. Her daughter dons a traditional costume with delicate decorative patterns embroidered on the collar and sleeves. Her husband and son put on floral shoes. These costumes have been preserved and cherished by the Xa Phang for generations.
Hoa said, "The Xa Phang people always don their traditional costumes when Tet comes. I sew and embroider the costumes for my husband and children myself. I began months ago to make sure they were ready in time for Tet. My hard work has been worthwhile. My husband and children look great in these costumes. I'm overjoyed." 
A traditional Xa Phang Tet feast includes smoked pork prepared long before Tet. Smoked pork is also used as an offering to the ancestors and a gift for in-laws.  
According to San Lao Ngai, a dignitary of Then Pa hamlet, although the economic status of Then Pa households varies, every family slaughters a pig, marinates it with salt, and makes smoked pork per their custom.
Ngai said, "Though most of us have been financially struggling during the COVID-19 pandemic, we can't ignore our tradition of slaughtering a pig for Tet. We make smoked pork and add it to various dishes for our Tet feast. The pig's head, one front trotter, and one back trotter are reserved for the ancestral worship ritual on New Year's Eve. We have been doing this for generations."
As the lives of the Xa Phang in Then Pa have improved, they have abandoned some customs, but San Seo Ngan, Then Pa's village chief, says Tet is still a time to put on the traditional costumes, meet friends and neighbors, and wishing them a new year full of good luck.   
"Xa Phang people celebrate Tet at the same time as the Kinh majority. We love playing folk games, such as spinning toys and swinging. Before Tet, we prepare smoked pork and rice crackers and make shoes for the children," said Ngan.