Weaving screens for paper-making craft
Saturday, 16:18, 10/07/2021
VOV.VN - Lo Sanh Phin is now the only Dao man in Ha Giang province still weaving screens to make paper, a traditional craft of the Dao.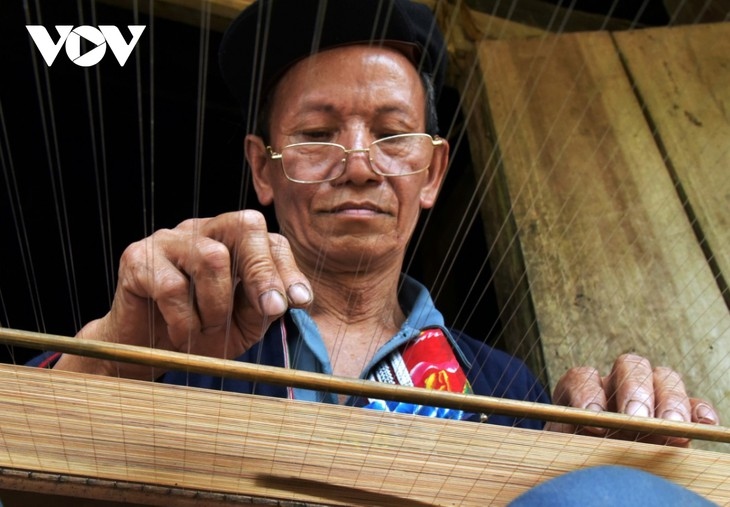 The Dao make their own paper for use in worship rituals and ceremonies. The manual process of making paper involves spreading pulp on screens woven from a type of bamboo called vầu. Weaving these screens is harder than weaving more common items like baskets and papooses.
Phin says it takes him about five days to complete a screen. 
"In the past villagers brought their damaged screens to my uncle to repair. When he got old and weak more than a decade ago, he transferred the job to me."
Phin cuts vầu plants into pieces about 90cm long. He removes the outer bark and splits the bamboo into strips as thin as toothpicks. 
The loom used to weave screens is 90cm long and 30cm wide. Phin uses a small bamboo tube to propel the vầu strips across plastic warp threads on the loom. When he has finished weaving a screen, he dries it in the sun to make it durable and firm.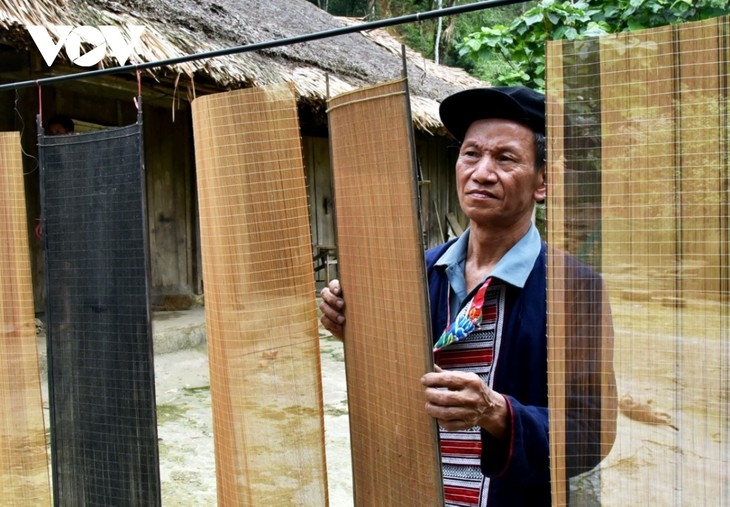 Trieu Thi Mui's family in Thanh Son hamlet has been making paper for 4  generations. She says she used to buy screens in the market for US$80 a piece, but they were not as good as she had hoped.
Now she buys Phin's screens so she can produce higher quality paper. 
"Screens sold in the market are difficult to use because they are round. They are not as fully stretched as Phin's products. Phin's vầu screens can be used for 2 to 3 years, and only cost about US$35 a piece."
Phin earns between US$120 - 150 a month from selling his screens. He says the extra income is good, but what he really wants is to transfer the craft to someone younger.
"I'm nearly 70 years old. I want to transfer the craft to someone younger, but there are very few people who want to do this work. It requires meticulousness and carefulness. A few children in my family have learned to do it."
Lo Duc Chiu, head of Thanh Son hamlet said, "Ha Giang province has only Lo Sanh Phin making screens for the paper-making craft. Screens are indispensable to the paper-making craft of the Dao. We need some incentive policies to encourage young people to keep on doing the craft and preserve this aspect of Dao culture."