Spinning top, a folk game of the Tay
Sunday, 10:42, 19/02/2023
VOV.VN - Tuc khang, which means spinning top, is a popular folk game for both ethnic Tay men and women in the northern mountain province of Yen Bai.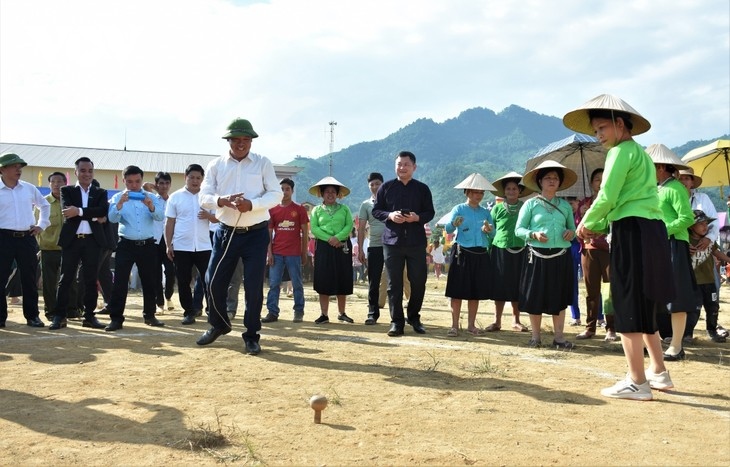 The spinning tops of the Tay ethnic minority are made from the ironwood, guava, and grapefruit tree. A top has a squat body and a sharp point at the bottom on which it spins.
Tay women use a fiber, jute, or flax cord to tightly wrap the upper or lower part of the top. When you throw a top down, you simultaneously pull the cord to cause the top to spin on the ground.
Nong Thi Huong, a Tay woman in Luc Yen district, said, "I've played top since I was in grade 6 or 7. I carry it with me in my schoolbag or hang it on my belt. Sometime I played it passionately with my friends and got scolded by my parents. This game is very addictive. The more I play it, the more I like it."
Tuc khang involves two or more players or teams competing with each other. Each team should have no more than 4 players. To start the game, both teams spin their tops at the same time and the top that spins longest wins.
The loser then has to throw his top first. The opponent then throws his top and tries to knock over or unbalance the first top. They play back and forth for several rounds and the highest score wins.
"Tuc khang attracts many players. At festivals people like to play team games to enhance the community bond," said Ly Dat Trang of Luc Yen district.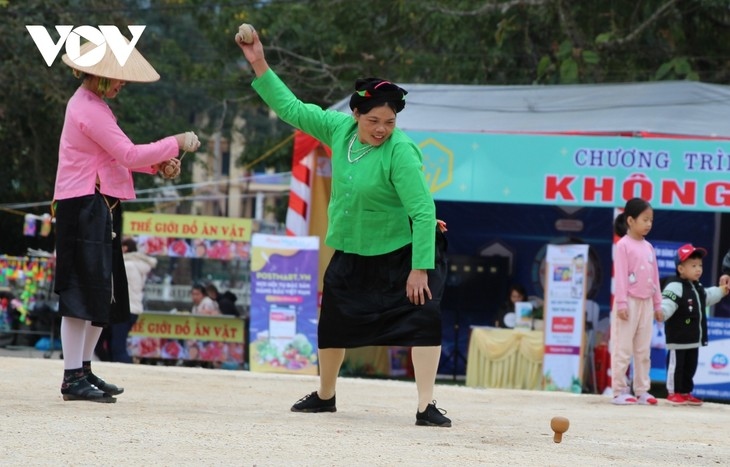 A player needs skill and a keen eyesight to throw his top accurately enough to hit the other spinning top on the ground. In the past the Tay organized festivals and played Tuc khang only in the first two weeks of the first lunar month. Now they play it whenever they have free time.
"Traditionally the Tay play Tuc khang at spring festivals in the first lunar month. Playing games is relaxing and I can sleep well when I go home," said Hoang Thi Truong.
At New Year's celebrations and festivals, Tuc khang always attracts a large number of both male and female players and spectators.
This folk game is played by other ethnic groups also, but for the Tay in Luc Yen district it has become an indispensible community sport.