New opportunities for Cham pottery village
Sunday, 17:39, 02/07/2023
VOV.VN - UNESCO recognition of the Cham people's pottery making as Intangible Cultural Heritage in Need of Urgent Protection was announced at the Ninh Thuan Grape-Wine Festival 2023 on June 16.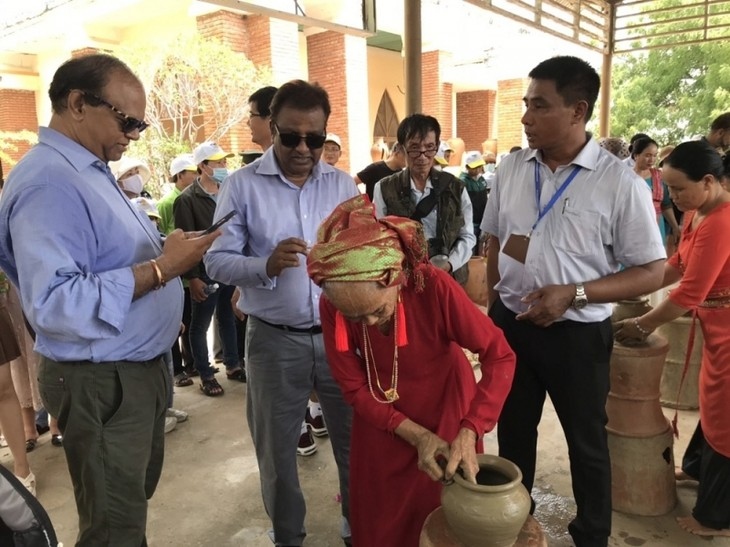 The recognition encourages local administration and Cham ethnic people to preserve and promote their heritage, preserve their traditional crafts, and increase their income by doing tourism based on pottery making.
Bau Truc, a famous Cham pottery village in Ninh Thuan, has survived to this day thanks to the tradition of passing the craft's secrets down through generations. What interests 70-year-old Truong Thi Gach, a Bau Truc artisan, most now is teaching her children the craft.  
She says she hopes her children and her grandchildren will love this craft, adding, "If they'll make an effort to learn it, I'll try to teach them how to make a pottery product."
Instead of using potter's wheels, Cham women use just their hands to create distinctive pieces. The traditional motifs of Bau Truc pottery include spiral serrations and botanical patterns inspired by seashells and plants.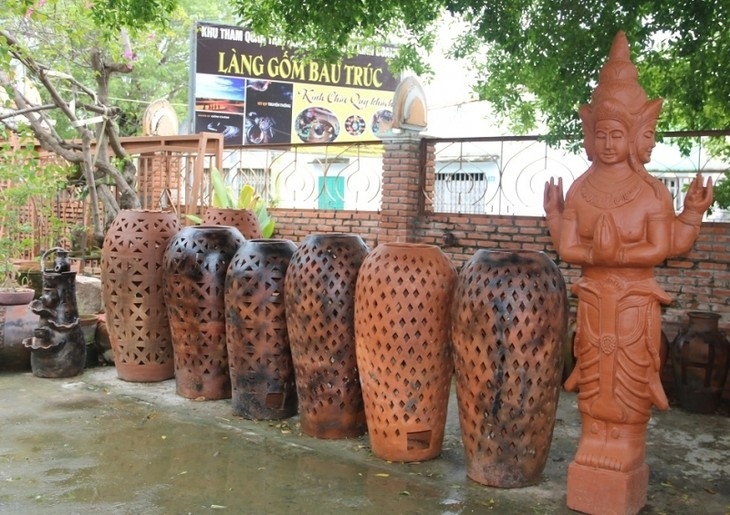 In 2017, the Ministry of Culture, Sports and Tourism recognized the Cham people's art of pottery making as a national intangible cultural heritage.
Since the art was recognized by UNESCO as an "Intangible Cultural Heritage in Need of Urgent Protection" last year, the number of visitors to Bau Truc has increased. On festive occasions, more Cham ceramic products are sold.
Van Quan Phu Doan, Director of the Cham Bau Truc Pottery Production, Trade and Service Cooperative, said, "Visitors are fond of Bau Truc pottery and buy lots of it as gifts for their relatives and friends. In addition to buying ceramics at souvenir shops, tourists can buy directly from the potters."
Bau Truc village has 300 households engaged in pottery production, 2 cooperatives, 2 companies, and 60 shops.
Since 2005, Ninh Thuan province has implemented many projects to preserve Bau Truc pottery village, including an investment project to build a tourist route and a joint project with India, worth more than US$800,000, to build a community.
The village is developing community tourism based on its intangible cultural heritage to give people a livelihood and preserve the local Cham culture.
Funded by the British Council and piloted since 2018, the heritage-based community tourism development project has brought a growing number of visiting tour groups and significant economic benefits.
Dang Chi Quyet, Head of the Management Board of Bau Truc Quarter in Phuoc Dan town, Ninh Phuoc district, said the community tourism board of Bau Truc village has greatly helped the village.
"Established in 2018, the community tourism board has groups in charge of cuisine, artisans, art performances, and culture research that work with craft villages and are ready to go to Phan Rang-Thap Cham city for performances upon request," Quyet noted.
According to Dang Sinh Ai Chi, Deputy Chairman of the People's Committee of Phuoc Dan town, the focus is on building material zones and training human resources for pottery-making in association with local tourism development.
"We have issued guidelines and policies to teach local children how to do tourism based on their traditional pottery heritage. Programs to train presenters and tour guides have been held," said Chi.