Mong Culture Festival preserves traditions
Sunday, 14:16, 09/01/2022
VOV.VN - The third Mong Culture Festival recently held in the northern mountainous province of Lai Chau attracted thousands of Mong ethnic minority folklorists, artists, and amateur athletes from 11 provinces.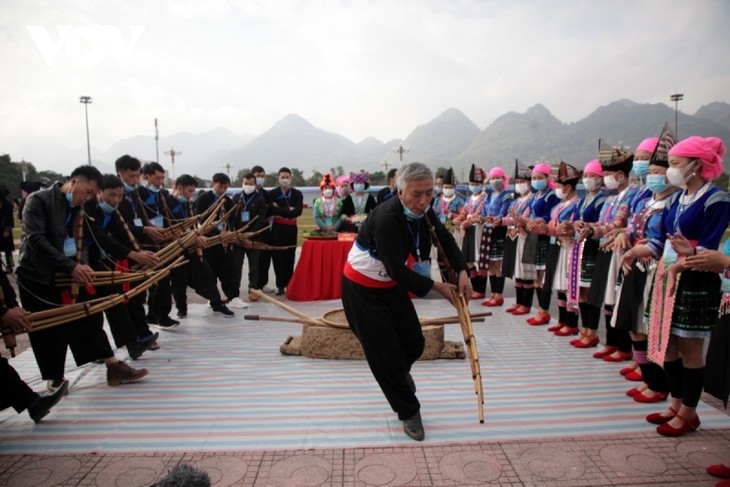 The Festival has helped preserve and promote the culture of ethnic groups and the Mong in particular. 
A highlight of the Festival was the folk art show by 10 art troupes. They gave 49 performances with panpipes, flutes, jew's harps, leaf-horns, and Mong folk songs. Every province brought demonstrations of rituals and cultural practices to the Festival.
"We perform an excerpt of the New Rice Offering ceremony of the Mong in Muong Lat district in the central province of Thanh Hoa," said Ly Ly Po, a Mong resident of Thanh Hoa province. "Every year when spring comes, we celebrate the New Year and a bumper crop. People pray for a better year, health and prosperity for all people."   
The Mong from different localities displayed their musical instruments, and handicraft products, among others, to show cultural unity and diversity.
"I'm very proud and happy to join the Mong Culture Festival. I'm impressed by the exhibition showcasing old farm tools. We no longer grind and pound rice manually so it's interesting to see the old tools," said artisan Thao Van Cuong from the Central Highlands province of Dak Lak.
Mong people are known for typical cultural values such as folk dance, panpipe performance, and delicate sewing and embroidered products.
"We introduced traditional clothes of the Flower Mong and White Mong branches. In the past Mong women wore white skirts. Nowadays it's very difficult to work in the fields wearing skirts, so they wear pants. Only when there is a festival or wedding do women wear skirts," confided artisan Lau Minh Po from Thanh Hoa province.
Hang Thi Qua from Sin Suoi Ho hamlet in Lai Chau province, further elaborated, "We display many embroidered and sewing products made by women of Sin Suoi Ho hamlet. There are also plants we grow in our gardens. We have many brocade products and clothes. We welcome people to Sin Suoi Ho, one of many attractive community tourist sites in Lai Chau."
Sport tournaments attracted amateur athletes from six provinces to compete in stick pushing, crossbow shooting, tug of war, and others.
The National Mong Culture Festival 2021 was an opportunity for Mong people from different places to meet and promote their culture to Vietnamese and foreign tourists.