La Hu people abandon nomadic life
Sunday, 23:28, 23/01/2022
VOV.VN - The La Hu, one of the smallest ethnic minority groups in Vietnam, live only in the border area of Muong Te district in the northwestern mountainous province of Lai Chau.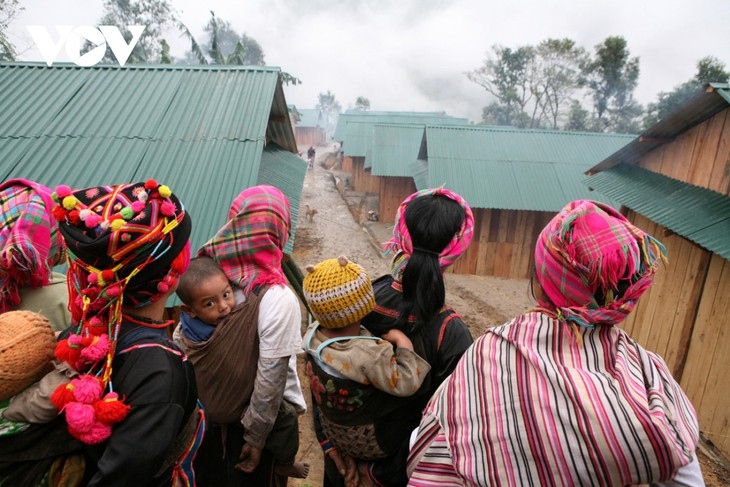 The La Hu belong to the Sino-Tibetan language group. After many generations of nomadic cultivation through forests in the upper part of the Da River, La Hu people descended to settle down.
Sitting next to a wood stove in a house which the border soldiers of Lai Chau province helped build in Nhu Ma hamlet, Ly Xa Pu talks about his life before settling down.
"There were a lot of nomadic groups. They travelled from one place to another to grow corn and rice. If we lacked food, we dug roots and collected any edible things in the forests. The houses were makeshift shacks. There were neither blankets nor mosquito nets. At night, we burnt wood fires near our place. Life was very hard in the forest." Pu recalls. 
The La Hu used to live in high mountains and deep forests. They isolated themselves from other groups and were scared to have contact with strangers. They neither live permanently in one place nor speak the Vietnamese language.
"It took a lot of time to encourage them to abandon the nomadic life and cultivation habit," says Phi Chi Gia, chairman of Pa U Commune People's Committee. "The local administration has campaigned them to leave the high mountain areas in line with Government policies. For example, two nomadic groups in Hà Nê and Hà Xi have settled in a hamlet and their lives have been improved."
The border guards of Lai Chau province have supported the La Hu on their migratory path from mountain to mountain. After many years of persistent communications, the soldiers' effort has paid dividends.
Lu Ly Ga of Ha Xi hamlet was one of the first people who settled in a hamlet in 2006. They were very happy when the government helped them build houses for a stable life. Ga recalls the time people wandered from here to there and stayed in makeshift huts amidst various dangers in the forests.
"Wandering in the forest was miserable. There was no place to worship ancestors on the mountain. Wherever we went, we set up an altar. The border guards told us that going down the mountain wouldmake our lives easier. Our children and grandchildren would be able to go to school. There would be no more hunger and cold. When I saw a few households go down the mountain, I followed them. In the new village, we live in tall and spacious houses, receive support, and have a much better life," says Ga.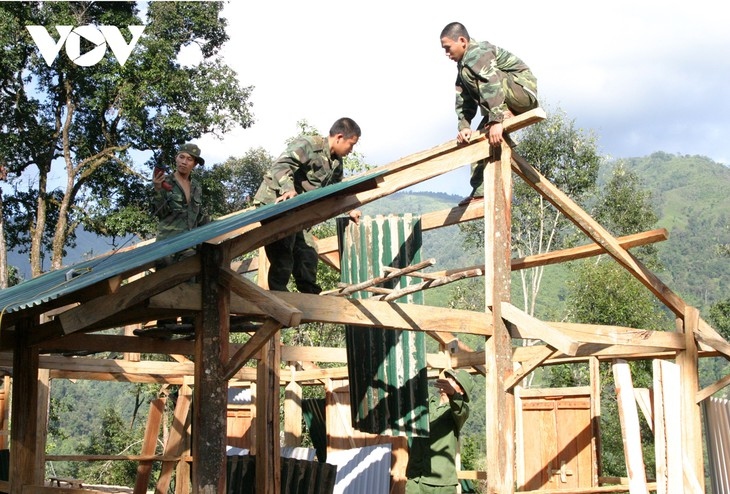 In 2020 Ho Chi Minh City, the Ministry of Public Security, and Lai Chau province began a project to help 245 poor households in Muong Te district, including the La Hu. In less than three months, they built more than 1,000 houses for local ethnic people.
Colonel Phan Van Hoa, Deputy Commander of the Lai Chau Border Guard Command, recalls: "The project started in the rainy season and faced various difficulties. But with our understanding of the local customs and the officers and soldiers' responsibilities, it was completed as scheduled."
Thang My Se  in Mu Chi hamlet now lives in a new house built with the support of local authorities and the border guards.
"Our lives used to very hard. We always lacked of food and we ate mostly roots in the forests. Thanks to the Party's policy and the border soldiers' support, we can settle in hamlets and live in new big houses. The soldiers teach us how to grow wet rice, harvest, and store rice. Our lives have much improved. Our village is happy and prosperous," Se says. 
The La Hu's dreams for a stable life where elderly people did not have to climb mountains have come true.