Co Tu's homestay service develops community-based tourism
Sunday, 14:00, 26/09/2021
VOV.VN - Over the last two years, the community-based tourism homestay of Dinh Van Nhu, a Co Tu man, has generated jobs for many people in Hoa Bac commune, Da Nang city, while promoting local culture.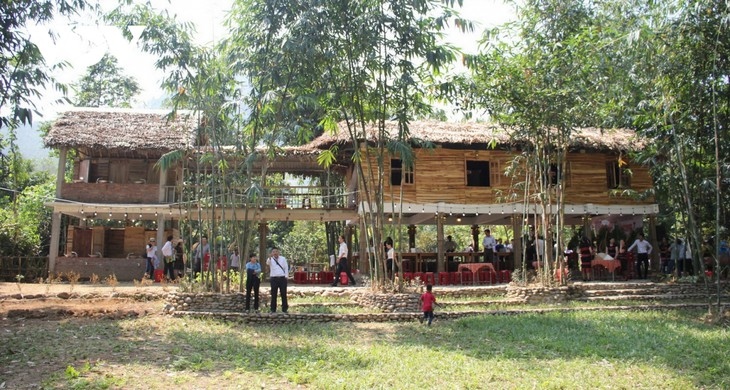 Dinh Van Nhu's homestay in Gian Bi hamlet covers an area of about 1,000m2. It has some springs and brooks and is surrounded by forests and mountains. The homestay is a stilt house that can accommodate 30 people. The first floor includes a reception hall and dining hall. The second floor has numerous sleeping rooms. The interior decoration is in the Co Tu style with wood, bamboo, and stone furnishings.  
When the homestay project began, the Co Tu people in Ta Lang and Gian Bi hamlet established a community-based tourism group of 45 members, who make woven and brocaded products for sale, organize trekking tours, serve traditional dishes, and perform folk art.
Bui Thi Luoi, a brocade weaver in Gian Bi hamlet, says local people have lied a hard life until the homestay service was introduced, helping them earn extra income from selling brocade shirts, wallets, bags, and other items. 
"When guests come, we demonstrate weaving  and  brocade techniques, perform dances and play gong music to earn extra cash. The homestay model has revitalized and promoted our traditions," Luoi confides.
In 2009 Da Nang city selected Hoa Vang district to pilot community-based tourism. Dinh Van Nhu, head of the community-based eco-tourism group, says the administration put up US$17,500 and he borrowed a little more to start the homestay project.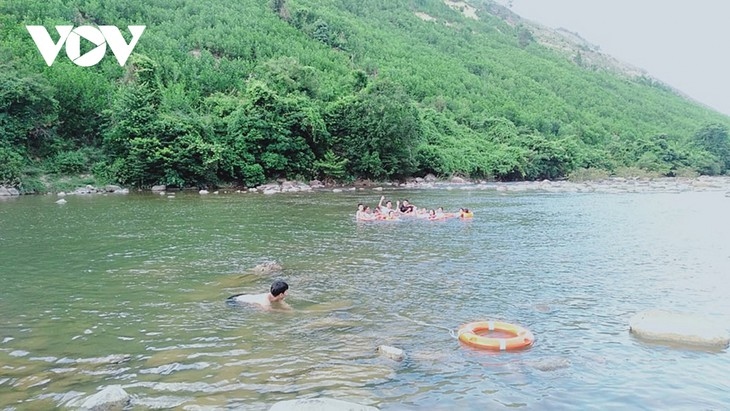 Tourists get to experience the life of the Co Tu by helping them make rafts, row down the Cu De river, weave papooses, catch fish, and make brocaded items. 
At night they gather around a campfire to enjoy gong performances and folk singing. The homestay model has attracted more than 1,000 visitors to the locality, according to Dinh Van Nhu.
"We've received few visitors during the COVID-19 pandemic, but now that Hoa Bac commune has tourism experience, we'll continue with a second phase to generate more jobs," notes Nhu.
Da Nang authorities have adopted policies to help community-based tourism groups and has organized handicraft classes in Hoa Vang district. 
"The municipal administration has invested in tourist services and promotion to attract visitors. We have surveyed and designed new tourism products to attract holidaymakers," says Tan Van Vuong, vice director of the Da Nang Tourism Department.