Omicron emergence affects plans to reopen international air routes
Wednesday, 11:05, 29/12/2021
VOV.VN - The emergence of the first Omicron case and the inconsistent quarantine policies in place in several localities are impacting Vietnam's pilot scheme to resume regular international commercial flights to major destinations worldwide.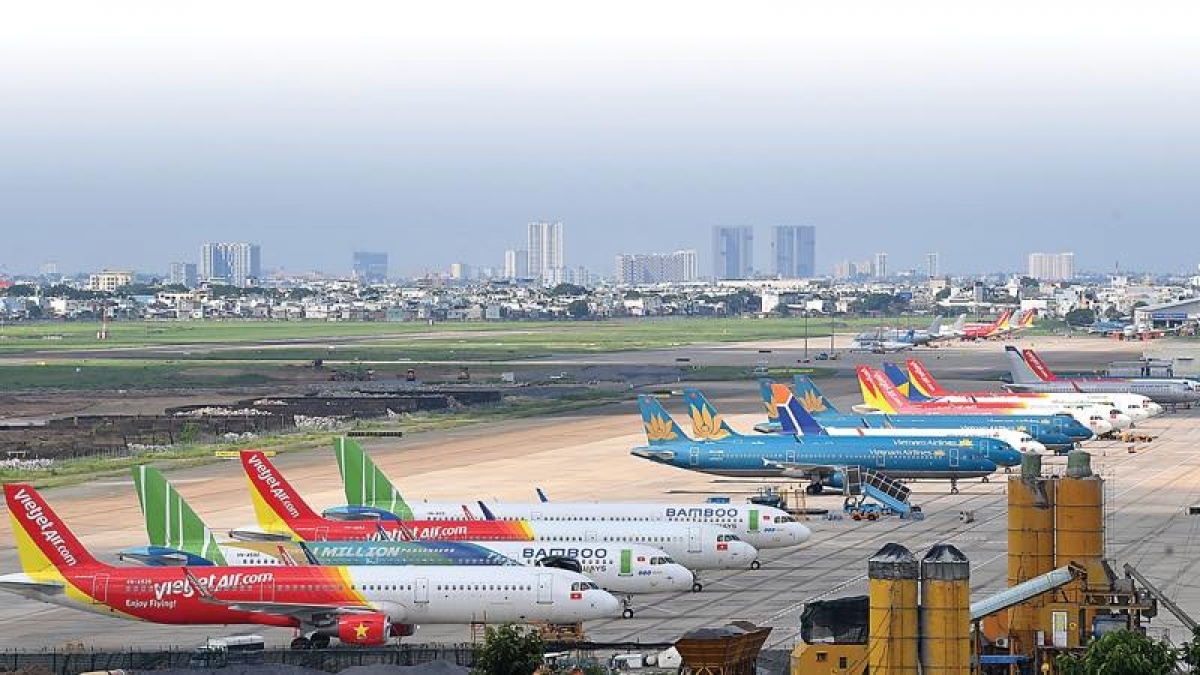 The Civil Aviation Authority of Vietnam (CAAV) announced on December 28 that four countries, the Unites States, Japan, Singapore, and Cambodia, along with Taiwan (China), have agreed to reopen air routes to Vietnam.  
In contrast, the Republic of Korea (RoK), Laos, China, and Thailand have yet to make any response or request further talks.
The CAAV has also licensed Vietnam Airlines, Vietjet Air, and Bamboo Airways to conduct flights to some of these markets, starting on January 1, 2022.
However, the recent emergence of the Omicron variant of the SARS-CoV-2 virus in these destinations threatens to put the pilot scheme on hold.
In a telegram dated December 23, the Government Office requested that all passengers undergo a rapid test before boarding their flights in order to swiftly detect any positive cases, especially infections linked to the Omicron variant.
As far as VOV online knows only airports in the US and Japan offer such a test, with the results coming back in around two hours.
"Given the current situation, airlines will only be able to operate routes from the US and Japan," said Dinh Viet Thang, head of the CAAV, adding, "The CAAV is negotiating with its counterparts of other countries to supplement regulations on rapid tests at airports."
At Vietnamese airports, Thanh said the CAAV has entrusted the Airports Corporation of Vietnam with the task of conducting rapid tests, with this responsibility also falling to local healthcare workers.
Indeed, the regulations of several localities on receiving passengers from these destinations is making it challenging for airlines to carrying out any of their plans.
Under a recently issued document, Hanoi has required all passengers aboard inbound flights, regardless of their vaccination or recovery status from COVID-19, to be placed in concentrated quarantine facilities.
This policy in Hanoi is considered to be 'tougher' than regulations put forward by the Ministry of Health that has requested that passengers self-quarantine at home for three days as opposed to seven days as had been previously implemented.
Elsewhere, Ho Chi Minh City, the country's largest city, has requested that airlines provide a list of passengers on each flight to the International Health Quarantine Agency at the border gate at least 24 hours before departure, with sufficient information about the address of their place of residence. 
Moreover, the emergence of Omicron cases worldwide, including the first domestic case, indicates that localities have plenty of reasons to tighten COVID-19 prevention and control measures. However, local policies are creating obstacles to the nation's pilot scheme to restore international air routes.
In a document sent to the Ministry of Transport, the CAAV insisted that the capital's quarantine regulation is not consistent with current instructions issued by the Ministry of Health, with the move forcing the CAAV to negotiate with its counterparts overseas.
Likewise, the CAAV said the requirements set out by Ho Chi Minh City will cause difficulties, making the implementation of the pilot scheme unfeasible.
During a recent meeting held in Hanoi with Deputy Prime Minister Pham Binh Minh, the Ministry of Transport was mandated to decide on whether or not to resume regular international commercial flights. Yet, developments linked to Omicron and inconsistent local policies are negatively affecting the scheme. 
"We need further instructions from the Ministry of Health or even report the problem to the Prime Minister," said a representative of the Ministry of Transport, as quoted by zingnews.vn