Vietnamese team progresses to semi-finals of AFF Futsal Club Championship
Tuesday, 18:58, 06/09/2022
VOV.VN - Vietnamese side Sahako FC won a place to the semi-final round of the ASEAN Football Confederation (AFF) Futsal Club Championship 2022 following their victory against their Malaysian opponents on September 6.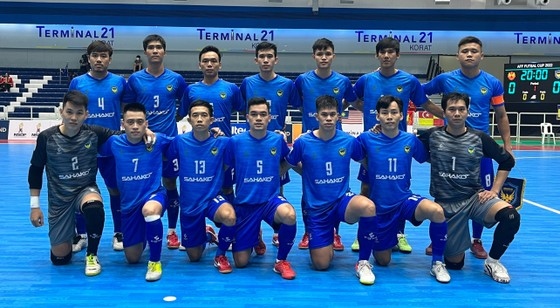 The opening moments of the game saw the Vietnamese players make a defensive mistake, giving the advantage to Selangor MAC of Malaysia to open the scoring easily.
The Ho Chi Minh City-based futsal club responded with attacking play, but failed to score in the first half.
The team led by head coach Nguyen Tuan Anh went on to dominate the game after the break with Duong Ngoc Linh equalising to make the score 1-1 in the 37th minute.
The Vietnamese players then put pressure on their rivals and scored a decisive goal in the final minute when left winger Dinh Hung passed the ball to Nguyen Dac Huy who made the score 2-1.
Sahako FC therefore top Group B with a total of six points. Moving forward they will face Bintang Timur Surabaya FC of Indonesia on September 8 in the semi-final round.
The AFF Futsal Club Championship opened in Thailand on September 4 and is scheduled to last through to September 10.
A total of seven teams have been divided into two groups. Sahako FC, currently at the top of the Vietnam National Futsal Championship, are in Group B alongside Selangor FC of Malaysia and Ramelau FC of Timor Leste, both of whom are defending champion clubs of their respective domestic leagues.
Group A sees the participation of Thai Futsal League's first runner-up Hongyen Thakam, Cambodian winners Dow Town Sport, Indonesian champions Bintang Timur Surabaya, along with Perwira, the title winning club from Brunei.
Teams are competing in a round robin format in the group stage, with the two group winners progressing to the semi-final stage.
The best result at the championship recorded by a Vietnamese team was second place finishes in 2016 by Thai Son Nam FC, 2017 by Sanna Khanh Hoa FC, and 2019 by Sanatech Khanh Hoa FC.
Since the first version of the competition back in 2015, the championship trophy has always gone to Thai representatives.