Vietnamese gymnasts to aim high at the 32nd SEA Games
Monday, 19:09, 13/03/2023
Vietnamese gymnasts are looking at the 32nd Southeast Asian (SEA) Games as a key stepping stone towards future success on the global stage, including the 2024 Paris Olympics.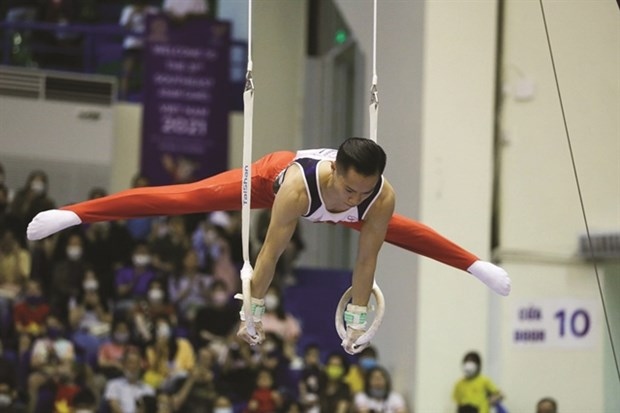 With a history of international success, including representation at the past three Olympics, gymnastics is just one of the several sports that Vietnam has established itself as a strong contender at regional competitions.

At the 31st SEA Games in May last year, the Vietnamese gymnastics team took home an impressive four out of eight men's gold medals, including victories in the horizontal bar, parallel bars, pommel horse, and team all-around events.

As preparations for the upcoming Phnom Penh Games in May get underway, Bui Trung Thien of the Vietnam Sports Administration called upon the country's top athletes to train together.

Among them are seasoned veterans like Le Thanh Tung and Dinh Phuong Thanh, who have already secured World Cup medals, as well as rising stars like Trinh Hai Khang, Dang Ngoc Xuan Thien, and Nguyen Van Khanh Phong.

Phong finished fourth in the Baku World Cup's men's rings on March 11 while Khang was placed seventh in the Doha World Cup early last week. They will continue competing in other international events in the future.

Thien confirmed that his players were asked to win up to three golds in Cambodia, as the hosts reduced the number of events compared to previous Games.

"They are preparing not only for the SEA Games but also the Asian Games and the Olympic qualifications," said Thien.

"Apart from improving athletes' quality we also build programmes to train junior athletes who will replace their veteran teammates in the future."

Olympic target

In addition to the golds from the 32nd SEA Games, the team also aim to win at least a bronze from the Asian Games in September in China and two places at the Paris Games in 2024.

In 2023, there are four World Cups, also Olympic qualifications held on four continents. The next World Cups will be in Azerbaijan and Egypt in April. The Asian championship, another qualification, will be held in the Republic of Korea in May. The world championship in October in Belgium will count towards qualification.

Athletes will take part in these tournaments to either win direct qualification or to collect points for their Olympic campaign.

"Organisers set higher standards every Olympics, leading to tough competitions. We will have to work really hard to complete our mission," said coach Truong Minh Sang.

The team also plan to have an intensive training course in China for the Korean Asian championship and expects to win Olympic tickets there.

Strong support

In an effort to support national gymnastics, the Vietnam Gymnastics Federation (VGF) and Next Media, a company specialising in providing solutions for all media and digital content needs, signed a four-year cooperation contract on March 9.

From now until 2027, the two sides will work together to mobilise social sources and sponsorships to develop the national artistic and rhythmic gymnastics, dance sports and aerobic movement.

The two sides will also work on matters of communication, commercial exploitation, copyright and organising domestic tournaments and accompanying national teams in international events.

"Gymnastics is one of the core sports of the Olympics," said Tran Chien Thang, VGF President. "Vietnam has grabbed pretty good results in international competition but locally not many people know about it."

"Due to a lack of interest, the federation meets a lot of difficulty in finding financial support. I hope that through the cooperation with Next Media, the problem will be solved and all four sports under the VGF will be lifted to a higher level."

Next Media Deputy General Director Do Thanh Tung said in addition to popularising VGF images and to the wider community, Next Media would call for enterprises' sponsorship so that leading athletes would be sent abroad for practising.

Previously, Next Media worked with the Vietnam Football Federation to send the U17 team on a training course in Germany. They also successfully organised True Love, an event to raise funds for underprivileged children because of COVID-19, and a friendly match between the Vietnam national team and Borussia Dortmund FC.