Futsal championship applies new format, rules to improve quality
Friday, 09:33, 17/03/2023
The National HDBank Futsal Championship 2023's new format and rule changes are expected to make a better and stronger tournament when the competition kicks off this weekend.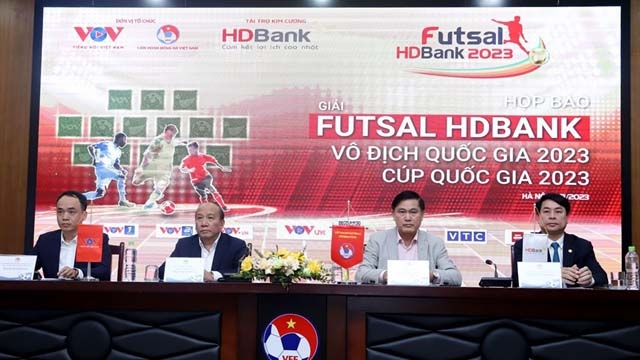 The Vietnam Football Federation (VFF) on March 14 announced the schedule of the event which features eight teams, four from HCM City, two from Hanoi and one each from Khanh Hoa Province and Da Nang City.
They will compete in a two-leg round robin format in home and away grounds, which is applied for the first time in futsal. Previously, participants played in one place only.
The tournament regulates that each club is allowed to register one foreign player and one player of Vietnamese origin.
"This is the first season that we organised home-and-away ground format," said Tran Anh Tu, vice president of the VFF. "This is a neccessary condition to develop the national futsal, lift it to a higher level.
"The championship also opens the door for foreigners and overseas Vietnamese. It will increase the competitiveness of the tournament and also raise its quality. All efforts are to improve our futsal in the region and the world.
"It will create challenges for us at first but we also made plans to counter these troubles to ensure the tournament's safety and quality."
Tú said bringing futsal to four big cities and provinces will introduce indoor football to a wider community, push the development of the sport and also create entertaining activities for tourists to the competition destinations.
The first leg will be from March 19 to April 18 and the return from June 28 to August 4 with a total of 56 matches.
The opening match will be a Hanoi derby between veterans Thai Son Bac and new faces Hanoi at the Athletics Palace.
Sanvinest Khanh Hoa will host GFDI Song Han at the Nha Trang National College of Pedagogy's gymnasium.
A day later, reigning champion Sahako will entertain Cao Bang while Tan Hiep Hung will face multi-time winner Thai Son Nam at the District 8 Futsal Club.
The winners will enjoy a prize of VND500 million (US$21,300), while the first and second runners-up will get VND200 million and VND100 million, respectively.
As a co-organiser, the Voice of Vietnam (VOV) will take charge of popularising the tournament on its channels.
"VOV has the strength of a national multimedia press agency with a full range of modern press," said Tran Minh Hung, vice president of VOV. "We will strongly spread news and information of the championship on all of our platform."
This season's matches will be broadcast on radio and television channels such as VOV1, VOV2, VOV Traffic, VOVTV, VTC1, VTC3 and other channels of VTC Digital Television. Other channels include VOV Live, VTC Now, VOV.VN, and VTCNews.
HDBank Deputy Chief Executive Officer Nguyen Van Hao said it was the seventh year in a row that the bank has accompanied with the national futsal championship. As the sponsorship, HDBank hopes to have a quality tournament for clubs, improve the national futsal and at the same time diversify local sports activities in Vietnam.