A setback for Vietnam ahead of AFF U23 Championship clash with Thailand
Tuesday, 13:00, 22/02/2022
VOV.VN - The Vietnamese U23 men's football team have suffered a major setback ahead of their clash with Thai opponents in their second 2022 AFF U23 Championship match slated for February 22 evening as five more players tested positive for the SARS-CoV-virus.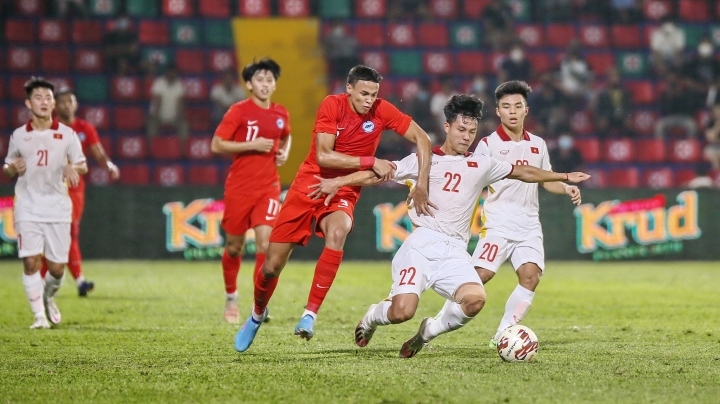 Earlier, nine Vietnamese players and two coaching assistants were also exposed to the virus, and they are now in quarantine for health surveillance.
With 14 infected players, coach Dinh The Nam now has only 15 healthy players on hand for the Thai clash, and if four other U23 players arrive from Vietnam by land on time, the coach will have more choices for his calculation.
A win or a draw will help Vietnam's U23s progress through to the semi-finals as they will finish in the top spot. The national team will only be eliminated if they lose to Thailand by eight goals or more, a scenario which is very unlikely to happen.
The majority of the squad are under the age of 21 and they have a modern attacking style which involves intense pressing along with quick and decisive handling. The 7-0 win over their Singapore opponents on February 19 built up their confidence.
Vietnam's U23 squad are capable of playing on par with Thailand's U23s, despite the absence of many key players.
A tough question for coach Dinh The Nam is how to make the team both perform well and maintain their momentum for the next round.