World No-Tobacco Day: Ensuring rights to smoke-free environment
Wednesday, 21:05, 31/05/2023
Amid the increasing use of tobacco, especially e-cigarettes, Vietnam has rolled out measures to minimise tobacco harms.
The Law on Prevention and Control of Tobacco Harms has been implemented for 10 years with a number of achievements. However, Vietnam is still one of the 15 countries with the largest number of adult male smokers in the world, while the target set out in the Strategy on Prevention of Tobacco Harms to 2020 was not reached.

Deputy Health Minister Tran Van Thuan said that in recent years, products called e-cigarettes, heated cigarettes, and shisha have appeared. These products are currently not allowed to be imported, traded or circulated in the domestic market. However, they have still been advertised and traded illegally, especially on the Internet and among youngsters.

Doctor Le Hoan from the Hanoi Medical University Hospital said that e-cigarettes are very harmful to the health of both active and passive smokers due to chemicals used in e-cigarette production.

This year, the World Health Organisation (WHO) chooses the theme "We need food, not tobacco" for the World No-Tobacco Day, aiming to call on countries to design policies and strategy as well as provide necessary support to alternative crop production and marketing opportunities for tobacco farmers and encourage them to grow sustainable, nutritious crops.

According to the WHO, nicotine contained in tobacco is highly addictive and tobacco use is a major risk factor for cardiovascular and respiratory diseases, over 20 different types or subtypes of cancer, and many other debilitating health conditions. Every year, more than 8 million people die from tobacco use. Most tobacco-related deaths occur in low- and middle-income countries, which are often targets of intensive tobacco industry interference and marketing.

Smoking rates tend to increase in developing countries. Every day, approximately 21,000 people die and on average 1 person dies from smoking every 4 seconds.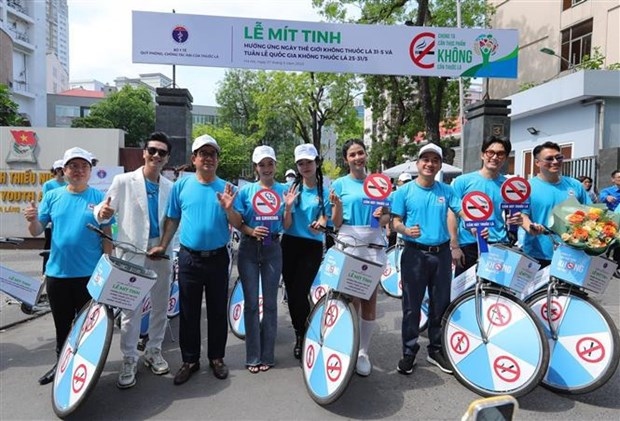 Tobacco can also be deadly for non-smokers. Second-hand smoke exposure has also been implicated in adverse health outcomes, causing 1.2 million deaths annually. Nearly half of all children breathe air polluted by tobacco smoke and 65,000 children die each year due to illnesses related to second-hand smoke. Smoking while pregnant can lead to several life-long health conditions for babies. 

WHO estimates that the global economic loss caused by tobacco each year is 1.4 trillion USD. Globally, about 3.5 million hectares of land is converted to tobacco crops per year. Nine of the 10 largest tobacco-growing countries in the world are low- and middle-income countries, of which four are identified as being food deficient.

Every year, about 5% of the forest area is cleared to grow tobacco, as well as to get wood for tobacco drying. It is estimated that 18 billion trees are needed each year to make firewood for tobacco drying. Annually, the use of tobacco releases into the environment between 3,000 and 6,000 tons of formaldehyde (H2CO), along with 12,000 to 47,000 tonnes of nicotine, and from 300-600 million kilograms of toxic waste.

Responding to the World No-Tobacco Day (May 31), a national No-Tobacco Week have been held from May 25-31 with various activities in many localities to raise awareness of tobacco harms and reduce the percentage of smokers in the community. The activities include a marathon themed "Vietnamese youngster say no to e-cigarettes".

The Ministry of Health has suggested the adjustment of the Law on Prevention and Control of Tobacco Harms with the addition of regulations on "e-cigarette" and "heated tobacco" products to control and minimise the use of e-cigarettes and new generation cigarettes. 

Recently, Deputy Prime Minister Tran Hong Ha signed a decision issuing a national strategy on tobacco harms prevention and control until 2030 with strong and synchronous measures to strengthen the efficiency of tobacco harm prevention and control efforts.

Under the strategy, Vietnam is striving to reduce the rate of tobacco use among males aged 15 and above to less than 36% in the 2023 – 2025 period.

The strategy also aims to reduce the rate of passive smoking at work to less than 30%, at restaurants to less than 75%, at bars and cafes to below 80%, and at hotels to below 60%. The figures are hoped to drop to below 25%, 65%, 70% and 50%, respectively, in the 2026-2030 period.

Thuan said that the implementation of the strategy aims to ensure the right of all people, especially non-smokers, to live, work and study in a smoke-free environment.