Women's Union enhances connection with Vietnamese women in Netherlands
Friday, 09:57, 02/06/2023
Vietnamese Ambassador to the Netherlands Pham Viet Anh hosted a reception for a delegation from the Vietnam Women's Union (VWU) led by its permanent Vice President Do Thi Thu Thao.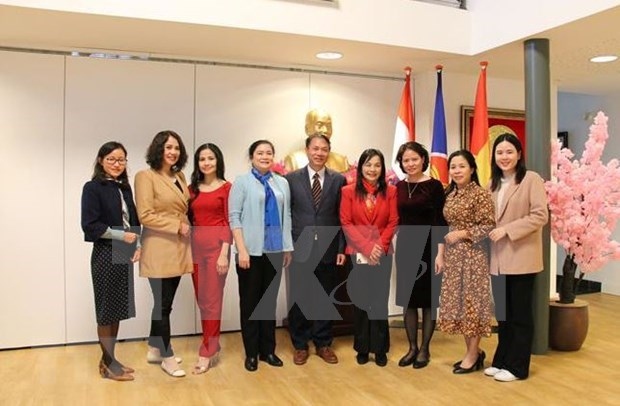 During the meeting on May 30, the diplomat briefed delegates on the activities of the Vietnamese community and societies in the European nation, including overseas Vietnamese women.

He said that these establishments have maintained many significant activities, contributing to strengthening solidarity in the community and the homeland's development.

On the occasion, the VWU's delegation had a meeting with Vu Ngoc Mai and Nguyen Lan Huong, who are presidents of the Vietnam Women's Union and the Vietnamese Women's Association in the Netherlands, during which good experiences in organizing activities for women were shared.

Ambassador Pham Viet Anh and the delegation agreed to create a channel for sharing information between the embassy and the VWU, toward connecting the Union and the Vietnamese women's community in the Netherlands.